If you are looking for a quick and easy project for Valentine's day, then why not try your hand at making your own chocolate bars. They're easy to make, and they're filled with love because, yes, you guessed it, you made them! They're also a lovely little project to do with the kids, and they don't take long to do either.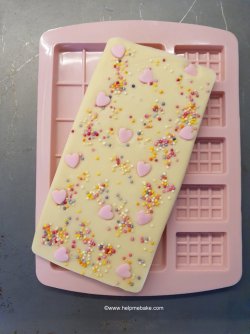 There are countless designs, and all you'll need is some chocolate, moulds, toppings, and your imagination. So have fun, get a bit messy and make the perfect gift for those you love!
Method​
Select your chocolate of choice. Then you need to melt it.
There are two ways in which you can do this:
Break it into small chunks into a piping bag or microwavable bowl and melt it in the microwave.
Or break into chunks, place it in a bowl and melt over a pot of hot water if you prefer.
Please ensure you have adult supervision when you melt the chocolate as it can get hot.
If using white chocolate, melt in 30-second increments in the microwave. This is because it has a different melting point to that of dark or milk chocolate.
I used a Bag of Terry's Chocolate Orange Minis to fill my chocolate bar mould. These do not need to be broken into chunks because they are small pieces.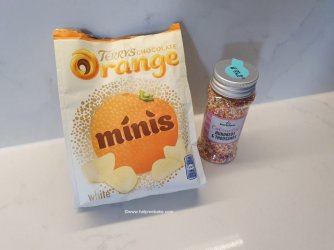 I placed them in a bowl.
Once melted, pour it into your chocolate bar mould. My mould was 15.5 cm long x 7.8 cm wide and approximately 5 mm deep.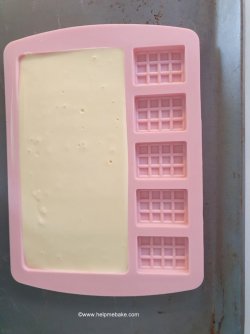 Try not to overfill it. Once full, shake the mould to allow the chocolate to spread into the corners. Also, try and tap it down to remove the air bubbles.
When the mould is filled, start adding your toppings of choice. Here are some examples:
Marshmallows
Icing/Fondant Decorations
Sprinkles
Their favourite chocolate bar chopped up into tiny pieces.
Rolos
Haribos
Jazzies
Fruit
Nuts
Salted Caramel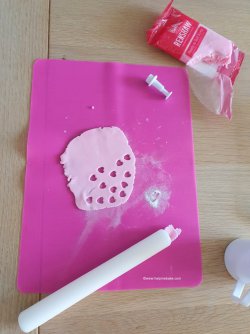 I used pink ready to roll icing and cut out some heart shapes using a heart plunge cutter.
Once the toppings have been sprinkled, place the moulds in the fridge to set.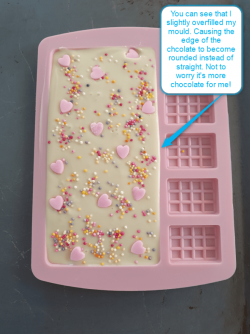 Once set, carefully remove the bar from the mould using your hands. (Ensure your hands are covered with food gloves, this prevents any fingerprints from being left in the chocolate when it touches your hand and of course, it's good food practice).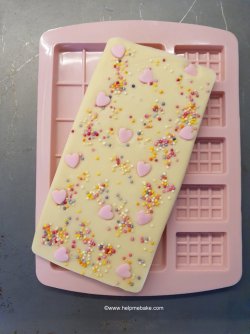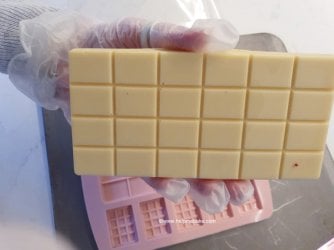 Place your gift in a cellophane bag and add a ribbon or decoration of choice.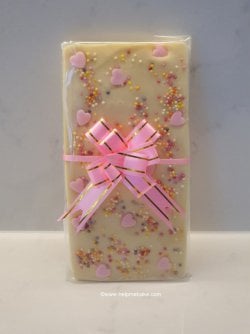 Last edited: