Ho, ho, ho and Merry Christmas!
If you're looking for some festive cheer, then have a look at the Reindeer Bars here! So easy to do and fun to make the best thing is there's no need to bake!
Apologies for the rhyming, but it is Christmas!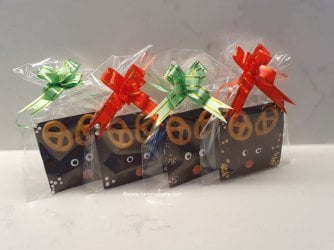 These dark chocolate bars were made using the following items:
Dark Chocolate
Pretzels
Edible Eyes (by Cake Decor)
Red Skittles (for the Nose)
Sprinkles, Gold Crunch, Edible White and Silver Pearls (Optional)
For the wrapping, I used cellophane treat bags and pull bows.
Note
- The Red Skittles did lose their shine a little after sitting in the fridge, so you may wish to use smarties or other alternative noses. You could use icing fondant if you prefer.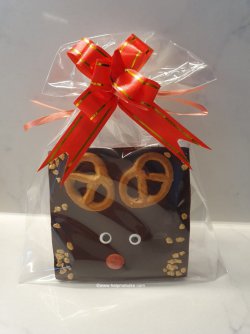 A little bag of Christmas to all who receive them!
I wish you all a very Merry Christmas!
Last edited: