So we're now back after the summer break, and what a wonderful way to return to the BSG meetings than with a demo from Julie Rogerson!
Julie has been making models for over ten years and has numerous accreditations under her belt. As well as being a fabulous tutor, she has also written her own
book
too.
I was lucky enough to meet her at our last BSG meeting, where she came to give us a demo. These are just a few of the models that she makes, and she has a website online where you can go and learn from her.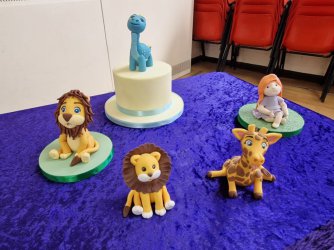 Award winning cake decorator, author, tutor and mum to three grown up children. I am dedicated to helping you learn cake decorating skills, whilst increasing your confidence.
julierogerson.com
She is a lovely lady who has patience and understanding and is happy to answer any questions you may have. We had so much fun watching her make this cute baby dinosaur and hope she returns again.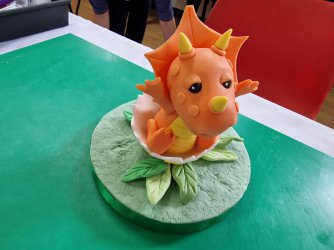 She even brought us this Witch in to help give us some Halloween inspiration! (The tutorial for it is in the Sugarcraft Magazine behind).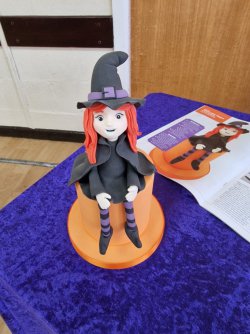 I think this is one of my favourite meetings so far, I've learned lots and even managed to re-create the dinosaur that she taught us how to make. What a fabulous way to kick start the meetings again! Thanks Judith, thanks Nicola!
I hope you have enjoyed a little insight into the meetings, and I encourage you to check out yours. If you like all things cake and decorating they're great fun and very informative too!
Local Branches of The British Sugarcraft Guild are distributed across the UK in seven Regions; hosting cake decorating demonstrations, workshops and sugarcraft events each month. Click our interactive regional map to find your local BSG branch and join us!
bsguk.org
Last edited: