Here is my Deano Dinosaur cake! It's not your average 17-year-old's cake, but when it's your own daughter, and you beg her to let you make her one because you like the theme so much, what can she say? We did watch Jurassic park over the weekend, so it's definitely in keeping with the theme.

I had great fun making this, and I'm so happy by the cheerful Dino vibe she brings to the cake. In fairness, I have offered to make my daughter another cake as a thank you for letting me make this one.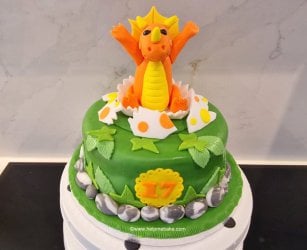 The cake is a 6-inch Madeira, covered in chocolate fudge icing and covered in Renshaw Icing, the model was made using Saracino Modelling Paste.
Thanks, Julie, for the demo; the dinosaur came out a treat!

Last edited: