If you've ever had any trouble making Macarons, here is a quick list of hints and tips that may help you with your issues.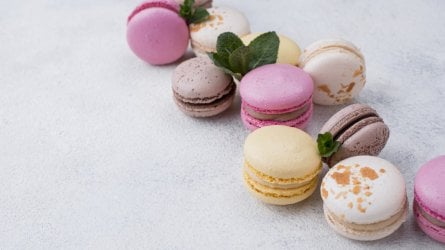 Macarons Tips​
Read the recipe and weigh out all your ingredients as instructed.
Sift all your dry ingredients.
Ensure your mixing bowl is free from grease.
Whisk your egg whites using a hand whisk or stand mixer, you will not be able to incorporate the amount of air manually.
If the temperature is too warm, it will be hard to get the right consistency.
Temperature is vital, so if it's too warm, they may look cracked and sloppy.
If living in a warm climate or working in a warm bakery, pipe the macarons at the end of the day when the ovens are off and when the temp will be at its coolest, then bake them first thing in the morning when they have dried.
Always pipe the macarons onto a stencil/template or a mat; never do them freehand; this will ensure they are all the same size and shape.
Use a disposable piping bag to pipe with.
Pipe at a vertical angle and then twist and pull away.
When piped, slam/tap your tray on the work surface to deflate them; this removes any air pockets giving the macaron a nice dense batter.
If air bubbles appear in the batter when piped, pop them with a toothpick.
Check if your macarons should be baked straight away or left to dry and form a skin.
Ensure that your parchment is stuck to the tray before going into the oven; this stops it from lifting/blowing around when baked.
Let them cool fully before trying to remove them from the parchment/mat.