Here is a set of Wilton Tools and their uses. They are listed in the order they are shown in the box.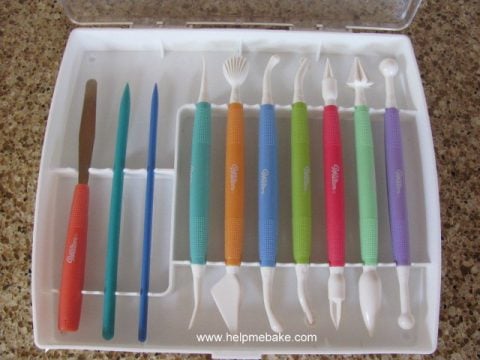 Palette Knife
Can be used to aid lifting delicate items such as petals, flowers and assist in placement on your cake. It will also assist you in removing icing that has stuck to a surface without tearing it.
Modelling Stick #1 & #2
These sticks are used for creating filler flowers, frilling the edges of petals and may be used as a very mini rolling pin if you have very thin icing.
Small & Large Veining Tool
The veining tool is used to enhance your petals and makes thin/thick marks on your flower petals or leaves. You could also use it to score a wiggly line in your icing.
Shell Tool & Knife
The shell tool makes a decorative border pattern on your icing especially when pressed into chocolate icing; I have used the shell tool to add character to mini models, i.e. for feet or wings or to add detail on birds. The knife can be used quickly to trim and remove excess icing.
Small & Large Bone Tool
Use this to enhance your petals, if you place your pre-cut flat flowers on a foam pad and push the bone tool into the middle of each petal, it will score a line like a vein down the middle and give your petals 'lift'.
Serrated Quilting Wheel/Cutting Wheel
It makes pretty patterns on your petals, adds definition to plain icing and can be used to create seams for teddy bears and for jeans or trousers on people models.
Umbrella tool with 5 and 6 Divisions
It makes small star patterns, is great for marking veins into icing quickly and can be used to create middle sections of tubular flowers, i.e. like the centre of a daffodil.
Serrated and Bulbous Cone
The bulbous section can create garret frilled edges and can assist in hollowing out icing. The serrated edge is used to place trace patterns in your icing and also used when modelling.
Small and Large Ball Tool
This tool feathers edges of petals and when circled in the middle of your flowers creates a 3D effect.
Tip:
Ensure you dust all your tools with icing sugar before use as this prevents the icing from sticking to them.
Last edited: