This delectable creamy Fudge is easy to make and tastes delicious too. It's great for all Mars Bar lovers, so if you want to know how to make it, see below.
Here is the step-by-step tutorial showing you how.
How to make Mars Bar Fudge​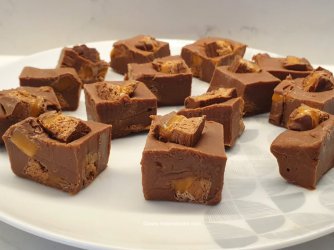 ​
Ingredients​
400 Grams - Milk Chocolate
397 Grams - Condensed Milk
5 x Mars Bars (33 Gram Bars)
Note:
I used Callebaut Belgian Milk Chocolate, Carnation Condensed Milk, and Mars Bars.​
​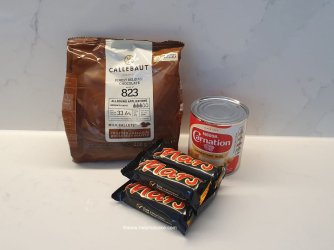 ​
​
Equipment​
Medium Pan
Spatula
Hob
Chopping Board
Sharp Knife
Small Plate/Large Plate
8-inch Tin
Can/Tin Opener
Non-Stick Baking Paper
Method​
1
Line your tin with baking paper, then place it to one side.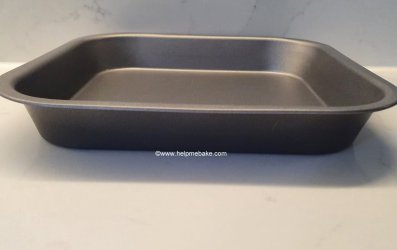 ​
​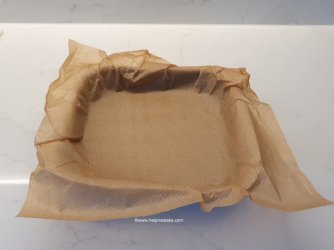 ​
2
Weigh out 400 grams of milk chocolate and place it in the pan. If you are using a bar of chocolate, break it into pieces first before putting it into the pan.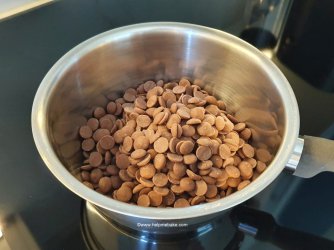 ​
3
Carefully open the can of condensed milk with your tin opener and then pour the contents into the pan. (Leave the pan to one side).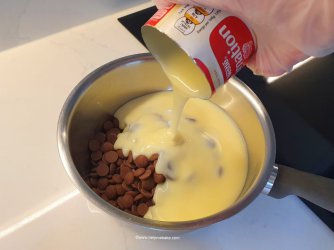 ​
4
Now start to unwrap your Mars Bars, place them on your chopping board and cut them into chunks using a sharp knife.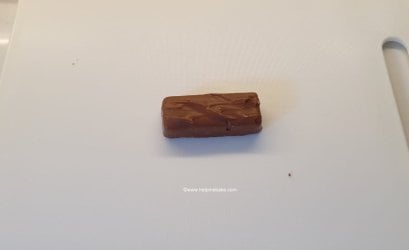 ​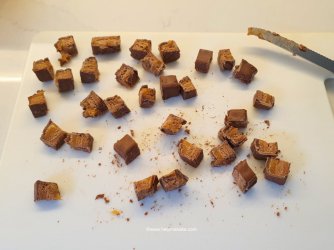 ​
​
5
Place two of the chopped-up Mars Bars on a separate small plate as we will need these for the top of the Fudge later.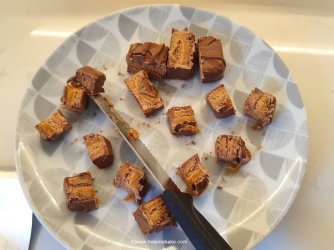 ​
6
Now, place the pan on your hob on a medium heat. (I used no 5 on my hob).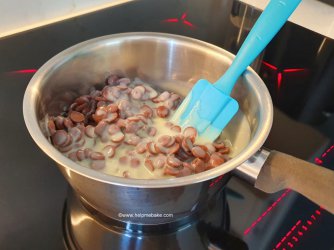 ​
7
Using a spatula, stir the milk chocolate and condensed milk together until they become silky in texture.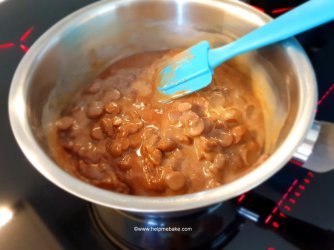 This took about five minutes.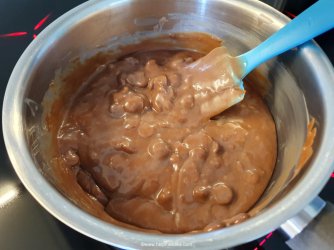 Once this happens, the mixture will become thicker and silkier in texture like below. You should then turn off your hob and remove it from the heat. (If your mixture is a bit thin, beat slightly with a wooden spoon to thicken up).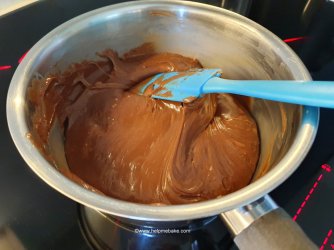 8
Now, take some chunks from the three Mars Bars you chopped up and lightly fold them into the mixture. (I did one fold-in with my spatula).
9
Then add the remainder of the three bars, and again, just fold in once.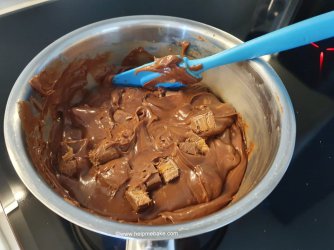 10
Now, pour the mix into the lined tin.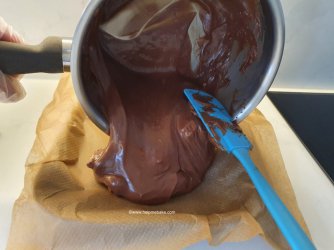 Remove any remaining mixture with the spatula.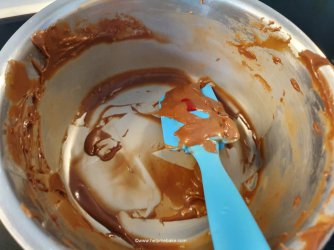 11
Shake the tin to allow the mixture to settle into the corners.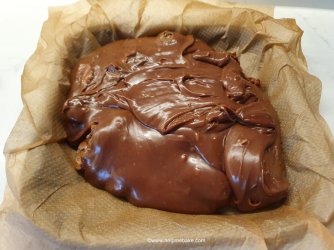 I had to spread it in the corner with the spatula as the mixture was a little thick.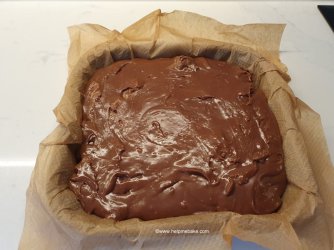 12
Then, use the remaining chopped-up Mars Bars from your small plate and place the chunks on the top of the mix.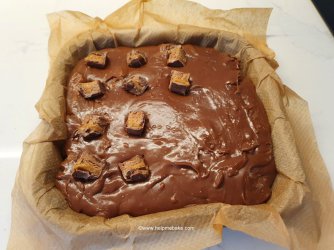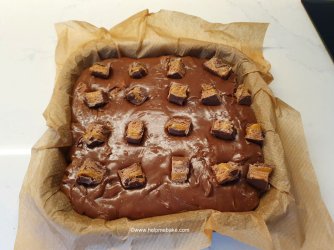 13
Leave the Fudge to cool on the work surface until it returns to room temperature. (This took me just over an hour) You can check to see if it's fully cooled by placing your hand on the bottom of the tin. If it feels warm, leave it a while longer. (I used my Mesh Food Tent to cover it while it was cooling).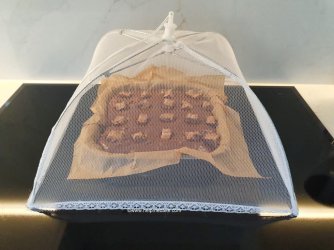 Please
DO NOT
put the Fudge in the fridge while it is still hot/warm. If you do, it will raise the temperature inside the fridge and start ruining all your other chilled goods.
14
Only when it's fully cooled should you place it in your fridge to chill. If you do place it in the fridge, be sure to put it in an airtight container or cover it with cling film so that it doesn't pick up any fridge smells or dry out.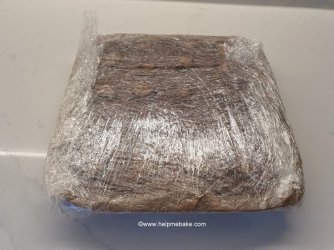 15
I placed mine in the fridge for about 1 hr 50 mins - 2hrs. The Fudge was soft enough to cut but hard enough to hold its shape when I cut into it.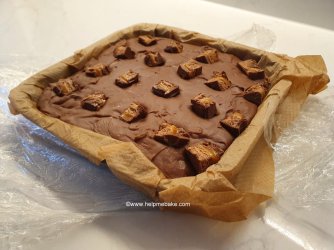 I then took it out and cut it into chunks on a chopping board. I left it in the paper to ensure it was 'set' enough to cut. It was a little sticky due to the caramel.
Note:
Please be careful when cutting into it. You may need to clean the blade of the knife a few times to ensure 'clean cuts' of the Fudge.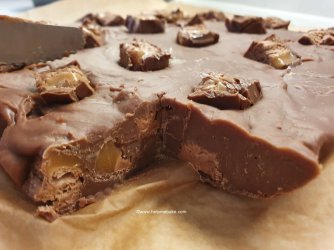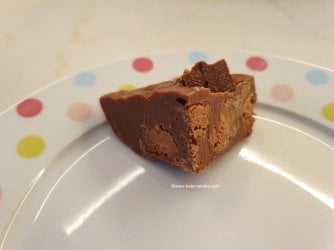 Once I was happy it was set enough, I removed the baking paper and cut it into chunks on the chopping board.
Note:
If yours isn't set enough, wrap the Fudge back in the baking paper, put it back in the tin, wrap it with cling film and then place it back in the fridge for another 10 minutes or so or until it 'sets' enough.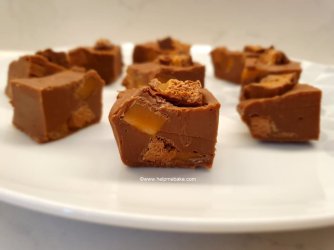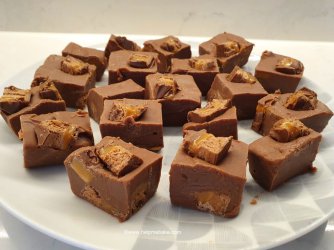 Depending on the size and shape you cut, you'll get around 18-22 pieces of Fudge from this recipe.
Last edited: