It's always good to have an array of patterns and embossers in your decorating box, so I recently tried out these textured sheets made by the USA company Makins. They are a quick and easy way of adding patterns and textures to your cakes/cupcakes, and there are lots of designs to choose from too.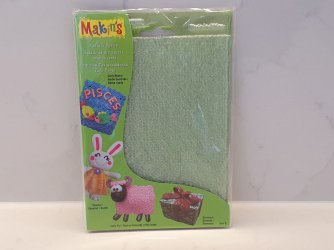 Predominantly the sheets are marketed for clay. However, you can just as easily use them for cake decorating. All you have to do is wash them in soapy water, rinse them and leave them to air dry before use. As I will only be using them for food, there is no contamination with any other products.
Packaging and Contents​
There are four textured sheets contained in the pack.
These are sealed in a cellophane packet with a cardboard interior.
Instructions

​
There are step by step instructions on the back of the packaging detailing how to use them. The instructions are for clay use. However, if you are using them for cupcake toppers, just roll out some icing/fondant on a dusted surface and follow the instructions on the reverse, substituting the clay for icing/fondant.
How many designs are there?

​

The pack contains four designs in total. (There are more varieties in the collection).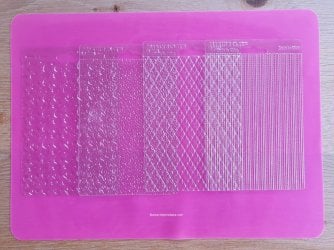 What are the designs? ​
The designs in this pack are:
Curly Beard
Sweater
Curly Fur
Diamond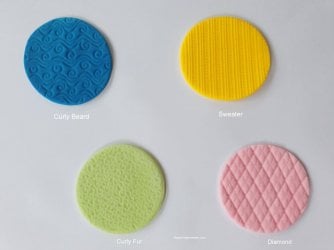 What size are the textured sheets?

​

The total height of the sheet is approximately 17.5 cm, but the pattern starts about 2 cm further down.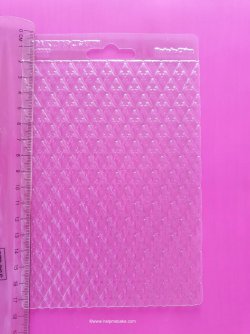 The width is around 11.5 cm.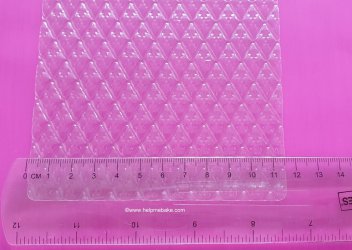 Are the sheets flexible?​
Yes, they have enough flexibility and movement in them so that you can peel them away from the icing fondant easily.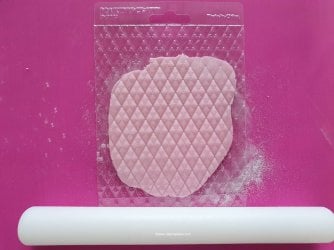 What can you use the sheets for?​
Curly Beard - I would use this for under the sea themed cupcake toppers or change the colour and make some edible Christmas Tree bauble toppers instead.
Sweater - As the name suggests, you could use this to make sweater themed toppers or other elements of clothing.
Curly Fur - You could use it as a textured grass backdrop for bunnies or chicks, use it to make an edible sponge for a baby shower themed cake or change the colour and make it into brains for a Halloween themed cupcake topper.
Diamond - This can be used for baby blankets, woollen themed toppers or perhaps a handbag.
Conclusion​
Overall I am happy with the quality and easiness of the product and would definitely recommend. Please note that prices may vary, so be sure to shop around.
Last edited: