If, like me, you're seriously busy at the minute but still looking for a quick way to enjoy the Jubilee celebrations. Then why not recreate these quick and easy cupcakes for the upcoming Bank Holiday.
You'll only need a few Union Jack flags, edible red white and blue sprinkles, and cupcakes of your choice and voila you've created a quick and easy celebratory cupcake.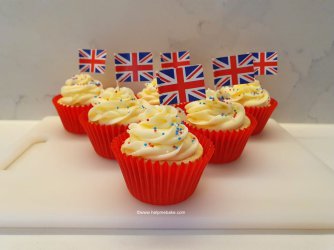 In order to keep with the theme, I chose to put them in a red cupcake case which helps the flags pop on the top of the cake. You could always use the remainder of the union jack flags for sandwiches too.
However, you choose to celebrate be sure to do it in style!
Enjoy!
Last edited: