So this was our final meeting of the year, and it didn't disappoint as Judith had our creative juices flowing by teaching us how to do some Iris Folding.
Now, if like me, you've never heard of it, let alone done any, it's generally used for cards and crafts. However, for this meeting, we were taught how to re-create the design using modelling paste instead.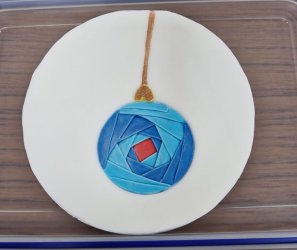 Judith explained that the reason we used modelling paste was that in order to recreate the technique, the paste needed to be nearly as thin as actual paper. So after a bit of a slow start and working on what colour formation we were working to we finally got cracking.
I sat with Nicola, Marion and Frances. We had such fun trying to remember which colour to use and how we were supposed to be doing things but once we got the hang of it, I ended up being the last one to finish.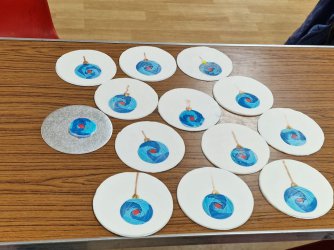 We did each section in stages and then finished off the bauble by putting it into a cake topper/board.
Then there was a wonderful buffet at the end, which was provided by most of the members and the 4-inch Christmas Cakes which were being donated. Unfortunately, I didn't manage to get a picture of the cakes, but there were Gingerbreads topped ones, Christmas tree ones, bauble ones and some other festive designs too. It's a shame I didn't manage to get a picture because the designs were really pretty and will definitely be greatly received.
It was a lovely way to finish off the year, and I would like to thank the ladies for their hard work and efforts, constantly making the events fun and interesting.
I look forward to returning again in the New Year.
Merry Christmas!
Last edited: