In light of
HRH Princess Eugenie's autumnal themed wedding cake
and the beautiful colours of the season that are seeping through my window, I have been inspired to make some edible leaves that you may want to have a go at.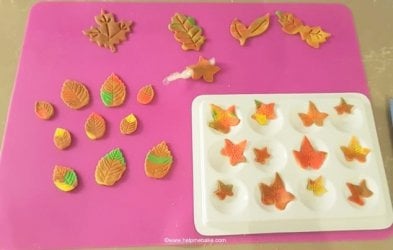 Autumn Fall Leaves Tutorial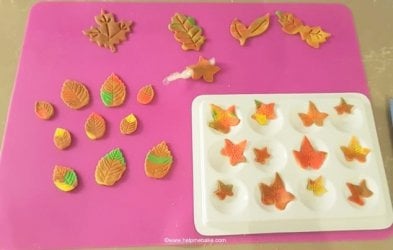 First, I pre-washed my range of plunge cutters in hot soapy water and left them to air dry.
Plunge Cutters:
Mason Cash Ivy Leaf Cutters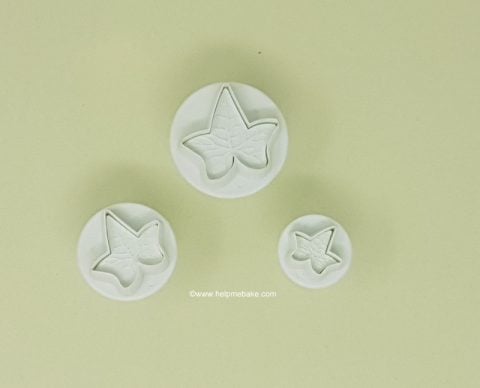 Kitchen Craft Leaf Cutters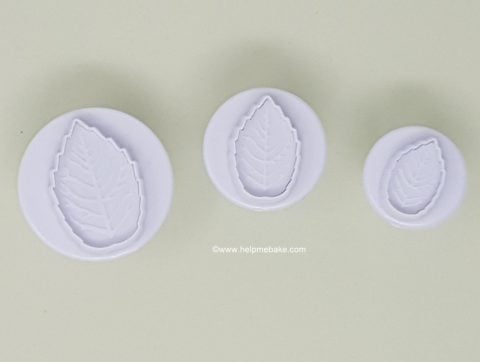 Mason Cash Leaf Cutters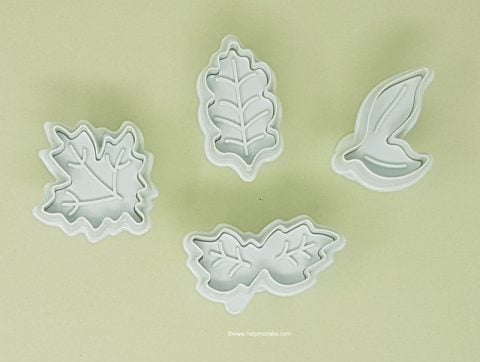 Autumn Fall Leaves Tutorial
To create the leaves, I took a selection of autumn fall colours and rolled them into balls. I used Renshaw Icing; Chocolate, Poppy Red, Black, Yellow and Lincoln Green colours.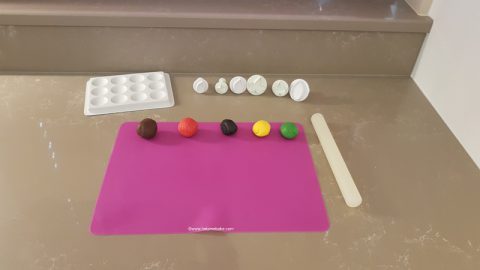 I pulled a little piece off each of the icing fondant balls and squashed them together with my fingers on the silicone mat.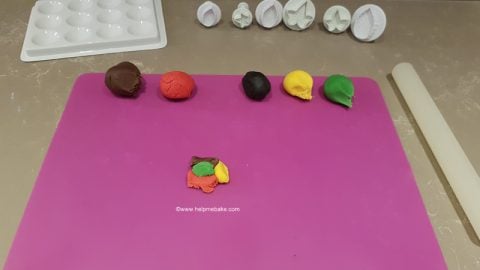 I then rolled the squashed icing out onto my lightly dusted (with icing/confectioners sugar) mat using a rolling pin to create a marbled effect.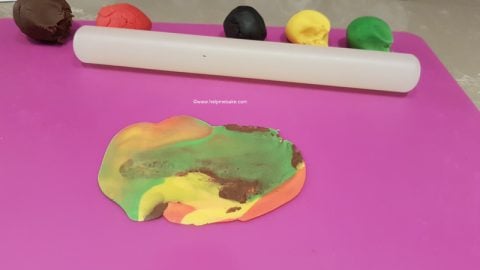 Once rolled out to the correct thickness, I took one of the leafcutters (that had also been pre-dusted in icing/confectioners sugar) and held the cutter with my thumb and forefinger, as shown below. I then scored it in a side to side motion on the mat.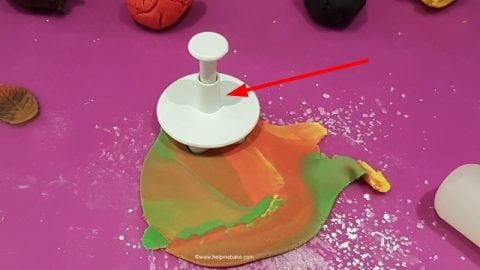 I then lifted it into the air and then ran my finger along the cutter's edge to smooth the edges. As autumnal leaves can be damaged, torn or have rough edges, you can leave them rough looking if you want to; it all depends on the look you are going for.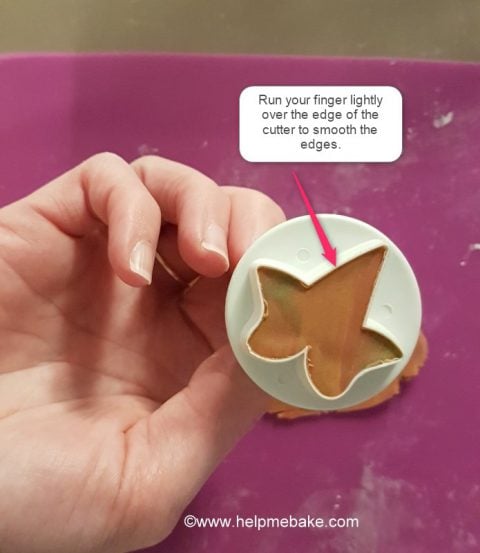 I then put the cutter back on the dusted mat and pressed the cutter into the leaf to make the indent pattern. It should then pop out onto your surface.
Continue and repeat this process; I did it with the different size cutters.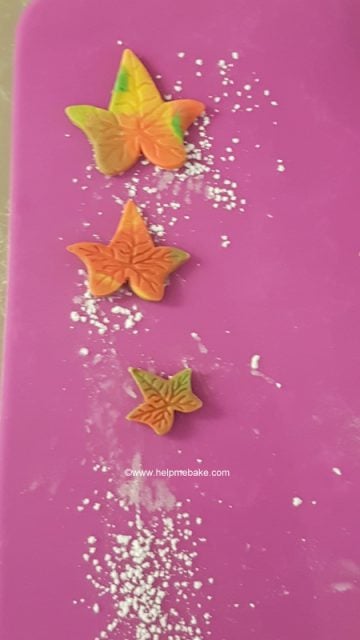 You can then place them in a blossom/petal former to give the leaves some dimension.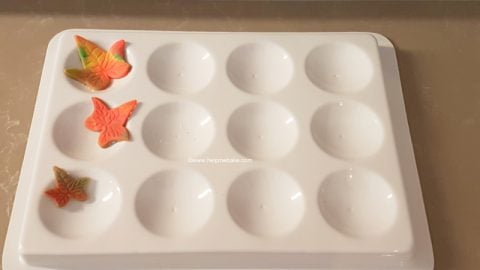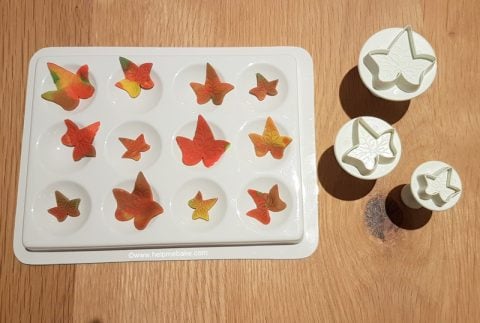 If you do not have a blossom/petal former, roll up some cling film or saran wrap and drape the leaf over that and let it dry, this will allow the leaves to dry in a bent position.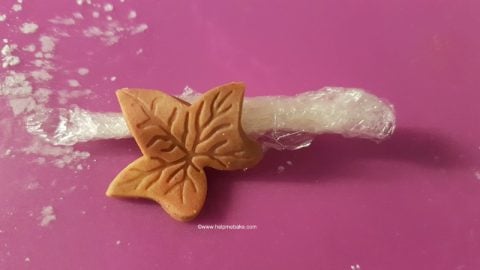 I re-rolled some more icing, but this time put dots of colour on the top and just rolled them in lightly so that I would have bold colours sat in the icing fondant.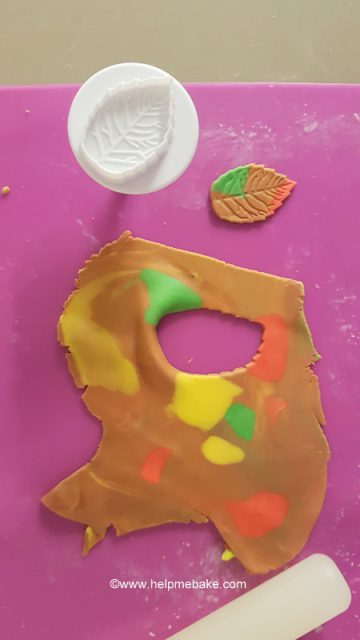 I then used the Kitchen Craft Cutters for a different shaped leaf. I repeated the process as above using these cutters and then the Mason Cash Leaf Cutters for the bigger leaves.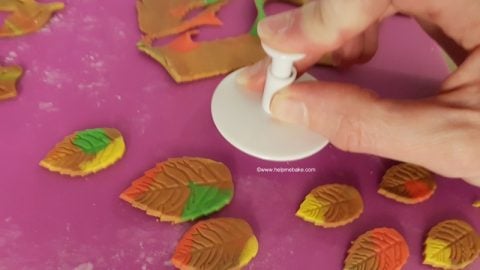 As you can see, they don't take that long to make but do look very effective.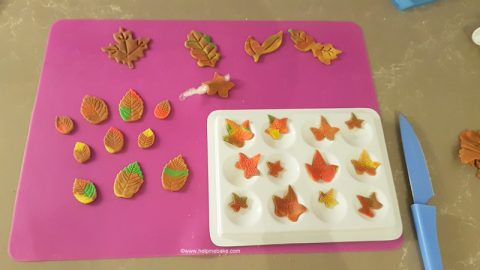 These leaves would be great on celebration cakes, bonfire themed cakes or added decoration to cupcakes.
Last edited: