I have put together a tutorial on how to make an edible Football Topper. This design can be applied to both cakes and cupcakes and has a lovely realistic effect. The great thing about it is the more lines and cracks that appear in the fondant, the more authentic the ball looks, which brings it to life. The design of it is super easy and one you can definitely get the kids involved in, well, if they don't eat all the fondant first! So without further ado, let's get the ball rolling.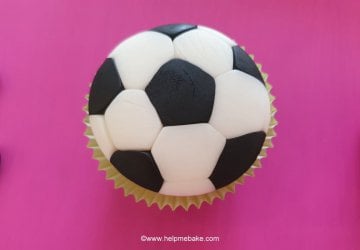 How do I make the 2D football cake topper?
Firstly you are going to need the following items.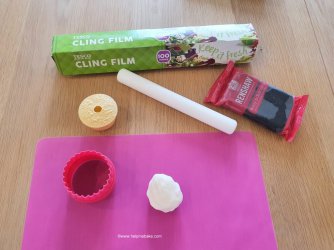 White Icing/Fondant
Black Icing/Fondant (or Football Team colour of your choice.)
Circle/Pastry Cutter
Rolling Pin
Palette Knife
Cling film/Saran Wrap
Silicon Mat to Roll Out On
Food Safe Gloves
Note
If you are using these football toppers for cupcakes, you'll need a batch of cupcakes and either some jam or buttercream to stick the toppers.
If it's for a cake topper, and you are sticking it to icing/fondant, you will need edible glue or cooled boiled water to stick it to the cake.
However, if you want to stick it directly to a cake, then use jam, buttercream or frosting of your choice.
Method
1. Roll the white icing fondant into a long sausage shape.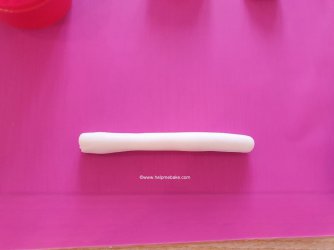 2. Using the palette knife, slice the sausage into 5 pieces that are roughly the same size.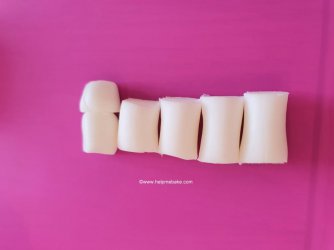 3. Take one of the pieces and roll it into a ball.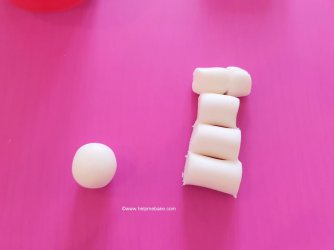 4. Do the same with the remainder of the pieces until you have five balls.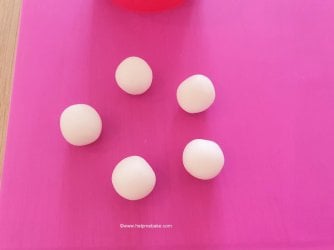 5. Repeat the process and make another 5 balls.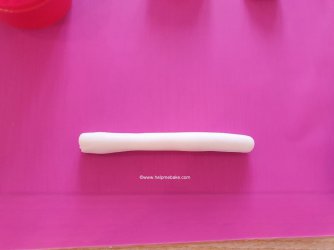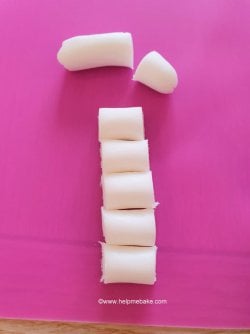 6. So now, in total, you should have 10 white rolled balls.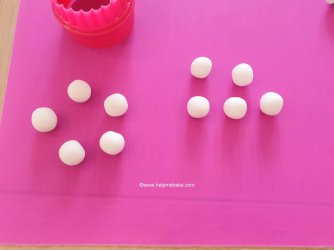 7. The balls I made were roughly the size of a 20 pence piece (2 cm in diameter). You may want to make them a little smaller if you are making them for a cupcake so that when they are rolled, they aren't too thick.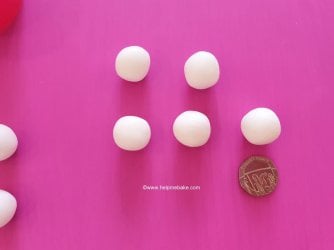 8. Place them to one side and cover them in clingfilm to stop them from drying out.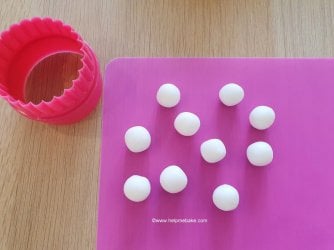 9. Now for the black icing, take a ball of icing, roll it into a sausage, like before.
Note
- You can always substitute the black icing/fondant for a favourite football/soccer team colour instead.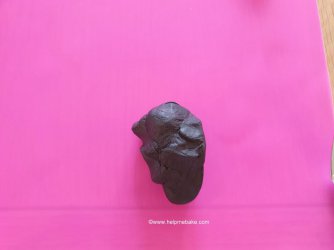 10. Cut these into 6 pieces.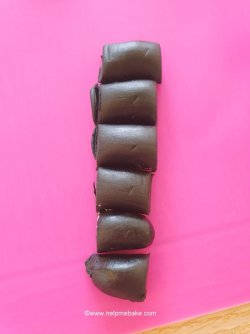 11. Make them into 6 balls.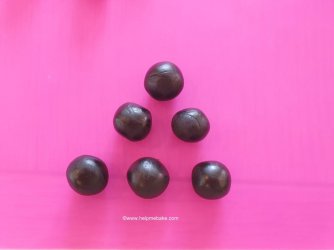 12. Now, start to assemble the balls together. (These are just placed next to each other).
13. Make them into a flower shape, like so.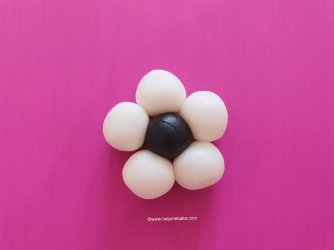 14. Start to add more of the balls.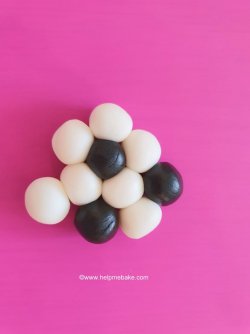 15. Continue to add the balls in the below pattern.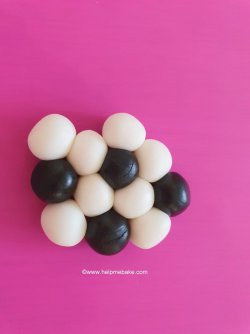 16. Until all the balls have been used and it resembles the below. Then you want to cup both hands around the edge of the balls and push your hands together to make a whole circle. This pushes the balls into a full circle shape. You can then lightly flatten the top down with the palm of your hand. You want to make sure that all the balls are touching each other.
17. Then cover with cling film/saran wrap.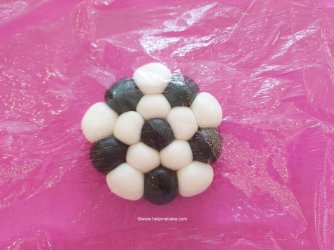 18. Roll the rolling pin upwards, careful not to add too much pressure to it. This will flatten the balls into shape.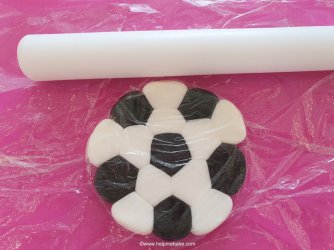 19 Now do the same horizontally. Then, check the topper's thickness; if you feel it's a little thick, repeat steps 18 & 19.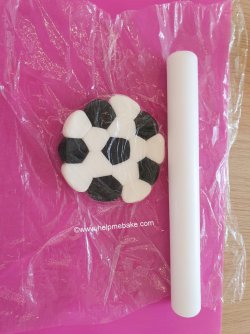 20. Leave the cling film/saran wrap where it is (yes, you did read that correctly) and place the circle/pastry cutter on top. I do this so that the icing/fondant has a very smooth edge when you remove cling film/saran wrap.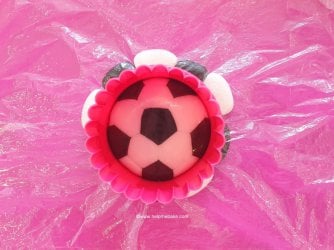 21. Use your hand and push the cutter through the cling film/saran wrap and icing.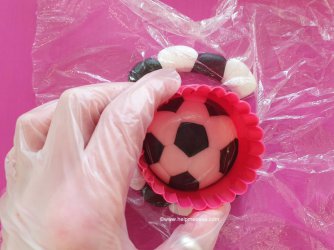 22. Rotate it clockwise and anti-clockwise to ensure you have cut it all the way through.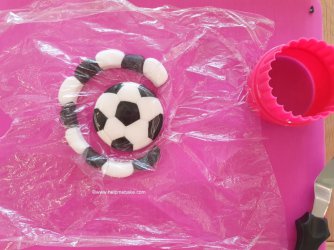 23. Remove the clingfilm/saran wrap.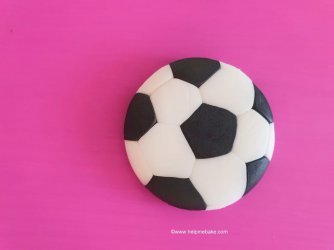 24. This is a side-on thickness of the topper. I could have rolled it thinner if I wanted to, but I didn't. This is approximately 8 mm thick and fine as a cake topper as the thickness would give it a bit more dimension on the cake. It is a little thick for the cupcake, but this is just for illustration purposes. So you roll it to whatever thickness you like.
25. I then placed the topper on my dummy cupcake and put a green cupcake case around the base for a grass colour.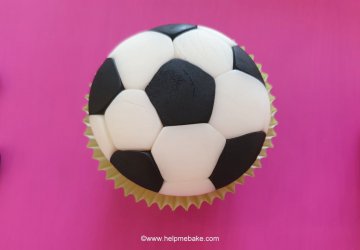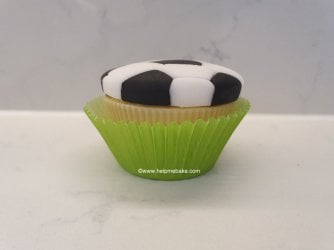 And there you have it, one football cake/cupcake topper.