Here is the recipe and guide on how to make a
6 x 3 inch
round moist Madeira Cake. This is an excellent choice for a single-tier cake but can also be used for stacking. To lock in the moisture of the cake and prolong its life, I also add a stock/simple syrup to the cake. This is optional, so it's up to you whether you wish to make it or not.
How to make a 6 x 3 inch Madeira Cake.

​

To start with, please do the following: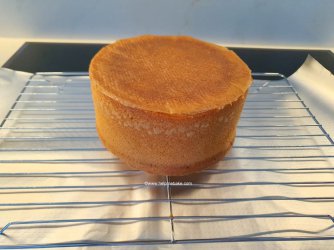 ​
Preheat your oven to one of the following temps:
Fan assisted: 150°C
Conventional Oven 160°C- 170°C
Gas Mark 2
Fahrenheit - 300 - 320F
Ingredients:

​
175 Grams Soft Margarine
175 Grams Caster Sugar (Superfine/Castor Sugar - USA)
3 Large Eggs
2

Tablespoons

Milk - (I used Semi-Skimmed) (Half Fat - USA)
225 Grams Plain Flour - (All-Purpose Flour - USA)
1Teaspoon Baking Powder
Tip:
Place the ingredients on the counter in the order you will use them; that way, you will remember to add everything in.​
​
Stock/Simple Syrup (Optional)​
100 Grams Granulated Sugar
150 ml Water
Spatula
Small Pan/Hob
Tip
- If you wish to make the stock/simple syrup for the cake, make this first. Do this by putting the sugar and water in a small pan, place on the hob and heat until all the sugar dissolves. Then place to one side and allow to cool. You do not need all the stock/simple syrup for the cake and there will be plenty left over. For a full guide, storage and additional info regarding stock/simple syrup, please see the below.​
​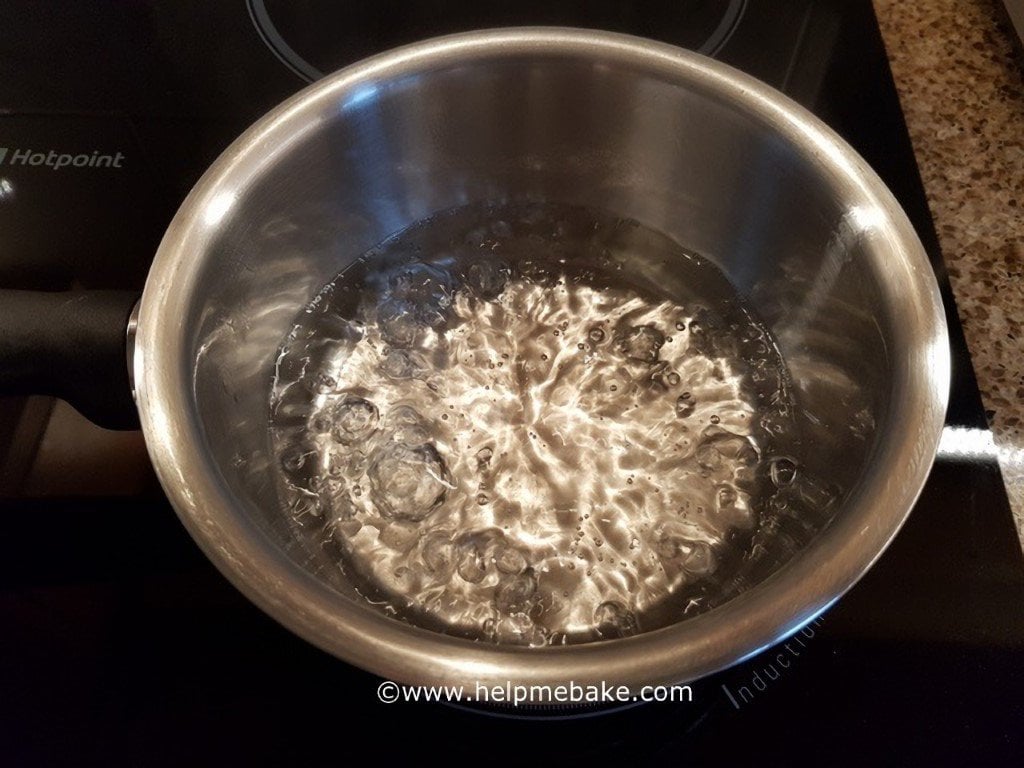 If you want to add extra moisture to your cakes, then you can do so by creating a stock/simple syrup. Here is a recipe and guide on how to make stock syrup for your pre-baked cakes. To make the stock syrup, you will need the following: Ingredients: 100 grams or 3.5 oz Granulated or Caster...

www.helpmebake.com
​
Equipment:

​
Mixing Bowl
Small Bowl/Glass (For Cracking your Eggs Into)
Scales
Electric Hand Whisk
Measuring Spoons
Spatula
Baking Paper/String
Greasing Agent - Bake Easy or Cake Release
Tip:
Cut out the required baking paper: You will need a circle for the base and a large strip to cover the exterior of the tin. It is always best to pre-cut these that way; when you're ready to pour, you can grease the tin, place the base-lining sheet in the bottom, pour the mix and then finish off by surrounding the tin with baking paper to give you a more even rise. Please note that a Madeira cake should crack on the top when baked.​
​
Method:

​

1.

Weigh the soft margarine and caster sugar and place them in your mixing bowl.

2.

Break 3 large eggs into a separate small bowl and then tip them into the mixing bowl. (This is to prevent any shell from entering your mix).

3.

Weigh out the flour and then sift that along with the baking powder into your mix.

4.

Add 2 tablespoons of milk.
​
5.
Combine the ingredients together using a
hand whisk
on
full power
. It should only take about a minute or so to combine/thicken; you may want to scrape down the sides of the bowl and then whisk a tiny bit more.
​
6.
Ensure there are no flour pockets in the mixture.
7.
Pour the mix into a pre-lined greased tin and surround it with baking paper. Secure with a piece of string to hold the paper in place.
​
8.
Bake on the middle shelf for regular ovens or on the lower bottom shelf (if you have a large-capacity oven like me). I baked mine on Shelf 1.
Tip:
For best results, please check your oven manual and see which shelf is best suited for your cakes.
9.
Bake for approximately 1hr 15 mins. I checked mine at 1 hr 10 mins and then put it back in again for 4 mins.
10.
Once baked, the cake should appear cracked on the top. To ensure it's fully baked, insert a skewer into the centre of the cake. If it comes out clean, it is done. If the skewer comes out gooey, place it back in the oven for 5 minutes. Continue with the skewer process using 5 - minute increments until the skewer is clean. If you don't want to add any stock syrup, go to Step 11.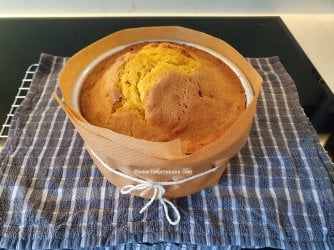 ​
​
Optional

-

* I add some stock syrup here.

​
​
To do this, poke some holes in the top of the cake with the skewer.​
​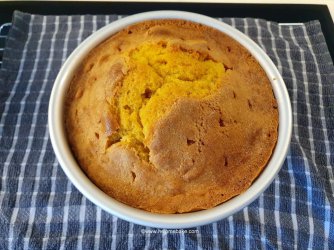 ​
​
Then take a few spoonfuls of the stock/simple syrup and pour them over the holes you made in the cake. They will absorb into the hot cake.​
​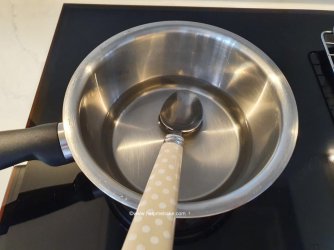 ​
​
I then cover the cake with a food net/dome whilst still in the tin and leave for 10 mins. Now go to Step 12.​
​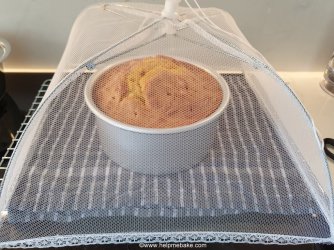 ​
11.
Once fully baked, place on a wire rack for approximately 10 minutes allowing the cake to shrink away from the sides. I placed mine on a damp tea towel to aid the tin cooling/contraction process. (Remove the exterior baking paper and string).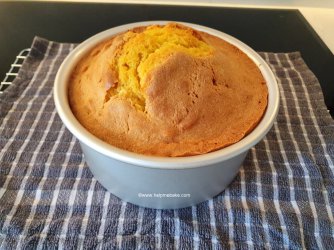 ​
12.
After 10 minutes, turn out onto a wire rack and peel off the base lining. * I then add a little more stock syrup to the base of the cake here. (Optional)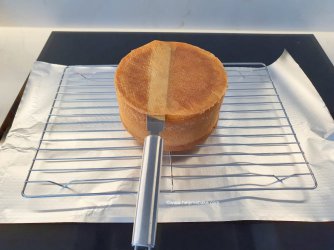 ​
13.
Allow the cake to fully cool. You can place the food net/dome back on here if you have one. Or leave the cake to cool as is. This can take up to 3 hours.
14.
Once fully cooled, wrap in baking paper and cling film and leave to 'rest' for 24 hours.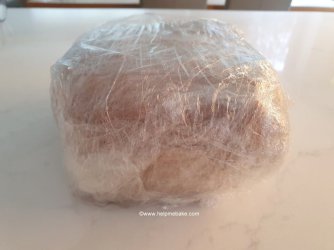 ​
​
Note:
* I add stock syrup to the cake while it's hot so that it can absorb into the cake and dry out while the cake is cooling. This prolongs the life of the cake and retains moisture giving you a wonderfully moist cake.​
​
Last edited: