Hot water pastry is used in hand-made pie crusts and is durable enough to hold some heavy fillings such as meats and root vegetables. It is a great, savoury choice and can be made in a relatively short amount of time.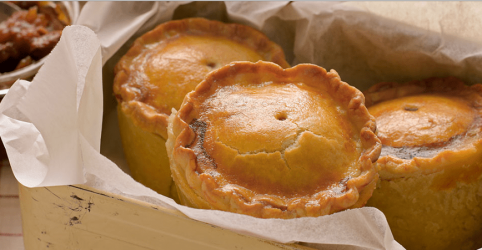 If you are looking to make the pastry for your pies, here are a few tips for you to focus on.
Use lard, butter or a mixture of the two when making hot water pastry.
Lard will give the pastry the fat, but the butter will give the pastry the flavour.
To make a hot crust 'dough', the lard and butter are melted in a pan of water and brought to the boil.
This is then poured directly into the flour mixture.
You would then bind them together using a wooden spoon; this allows some of the heat to escape and lets the dough cool slightly.
When cool enough to touch, place on a work surface and knead.
Once you are happy with the consistency, roll out whilst still warm.
For the fillings, you want to ensure that they are moist and flavoursome.
You could add fillings such as lamb, pork, potatoes, mushrooms, leeks, etc.
But ensure you crimp the lid to seal the contents.
If the pie crust is too thin, your filling can ooze out.
Too thick, and it might not bake properly.
Put the correct amount of filling in the dough.
Not enough filling, and you create an air pocket.
Too much filling and the contents will spill over during baking.
Fill the pastry to about 1cm off the top of the pie; this will allow enough room to place and seal the lid.
Ensure you put a hole in the lid; this allows the steam to escape whilst baking.
Eggwash the pastry to help give it a lovely browning colour.
If you are putting sausage meat in the hot crust pastry, be advised that it shrinks when baking, so you may wish to add jelly/gelatin stock to it when it's baked to fill the gap and keep the contents moist and flavourful.
And there you have it, a few tips to help you with your hot crust pastry.
Last edited: