Hi everybody,
Continuing with my adventures into all things chocolate, I had a go at making filled chocolates.
I used white, milk and dark chocolate then decided to try using candy melts as well so chose red for the roses and hearts..
I melts the chocolate and using a small brush coated the different moulds with various melted chocolate. I placed these in the fridge to set whilst I made the fillings. I decided on caramel for some and chocolate ganache for others.
I also decided to use the ganache to make some chocolate balls. I rolled the ganache into balls and put them in the fridge to harden the rest I placed in an icing bag to fill my moulds. as I had some cream left over I melted some white chocolate and made some white ganache.
I filled my now set moulds and using the rest of the melted chocolate covered the moulds and placed them back in the fridge. I pushed a cockt stick into my ganache balls and dipped them into the melted chocolate, white, red and dark. Then when they were completely set decorated them.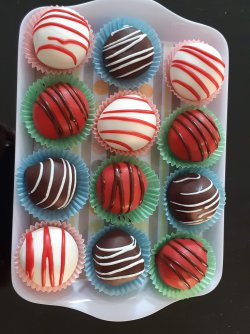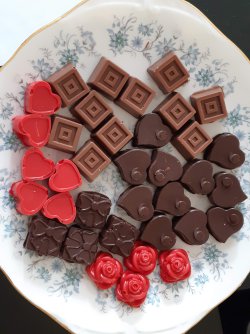 they all tast fabulous
Last edited by a moderator: