If you have friends coming over and you'd like to give them a little sweet treat, then why not give them some of these chocolate chip cookies! Filled with dark choc chips, a hint of vanilla, warm caramel undertones and a slightly crisp yet doughy like texture, what's not to love about them? They're really easy to make, and both the kids and grown-ups will adore them! So what are you waiting for? Get baking!
Easy Chocolate Chip Cookie Recipe and Guide​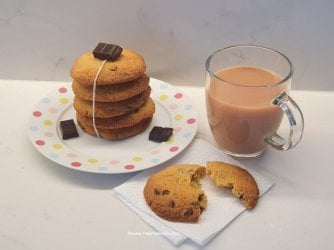 ​
Ingredients​
175 Grams Plain Flour
125 Grams Soft Margarine
85 Grams Light Muscovado Sugar
5 Tbsps Caster Sugar
1 Tsp Baking Powder
¼ Tsp Vanilla Extract
1 Large Egg
100 Grams Dark Chocolate Chips
Note:
These cookies spread in the oven, so please leave enough space between each one.​
Method​
1
Preheat the oven to one of the following:
190°C - Fan Assisted
200°C - 210°C Conventional Oven
375F
Gas Mark 5
2
Weigh out all the ingredients and place them into a mixing bowl. (I sifted my flour into the bowl, but you don't have to).
3
Using a spatula, lightly mix the ingredients together, then beat with an electric whisk on a medium speed until it starts to combine. It will go very dry and crumb-like first before softening and becoming sticky.
4
Line two baking trays with baking paper.
5
There are now two ways of making your cookies, depending on how big and thick you want them. (I got six to a sheet).
i) Using a pair of food gloves, take small scoops of the mixture into your hands, roll them into a ball and space them out on a baking sheet.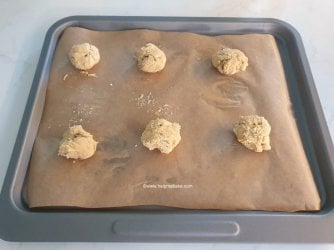 ​
ii) If you want them bigger, use an ice cream scoop, but they will take longer to bake.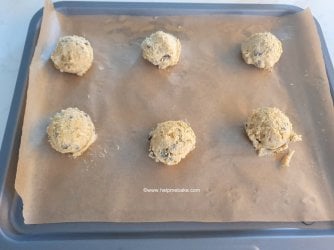 ​
6
Baking time will depend on which size cookie you want.
i) For the hand-scooped cookies, bake them for approximately 12 minutes on the middle shelf or until they turn golden brown.
ii) If you made the ice-cream scoop sized cookies, then bake them for approximately 14-16 minutes on the middle shelf or again until they turn golden brown; they are much thicker than the other cookies, so they need the extra few minutes. (I baked mine for 15 minutes 30 seconds).
Note:
The cookies should still be a little soft when removed from the oven and will continue to bake for a few minutes after they are placed on the wire rack, so please take this into account when baking and getting the correct consistency.​
7
Once baked, slide the baking parchment and cookies onto a wire rack to cool fully and firm up. This will make cleaning and cooling much easier as you can remove the cookies with a palette knife once set.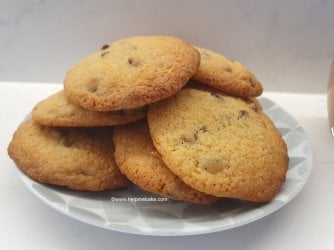 ​
These are the hand-rolled cookies.​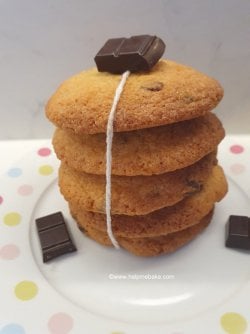 ​
These are the larger and thicker ice cream scooped cookies.​
8
Eat straight away or store in an airtight container or ziplock bag.
Last edited: