This was a drunken-themed birthday cake that I made for my husband's 50th birthday.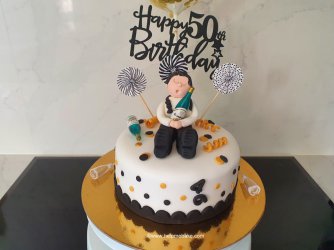 The cake is a 6-inch Madeira which is one of his favourite cakes. When baked I added extra moisture by adding a stock syrup to the cake when it came out of the oven. Once levelled, I then filled it with jam and covered it in golden marzipan. I used white icing fondant, autumn gold, and jet black Renshaw icing for the top layer.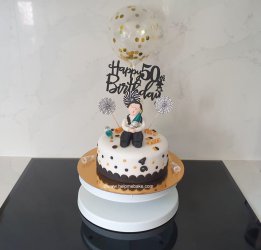 The cake was then topped with a sleepy replica of my husband holding an empty champagne bottle. I made his hands and face using white Saracino modelling paste mixed with Paprika Sugarflair food dye to make his skin tone. For the champagne drip, I mixed piping gel with gold lustre dust. The dots, Confetti and streamers were made using the Renshaw icing and cutters.
To make the streamers I wrapped slim pieces of icing fondant around a skewer and left them to dry. For the base of the cake, I used a rounded border cutter.
The additional topper decorations that I used to decorate the cake were a Confetti filled balloon, a Happy 50th Birthday sign, and some dotty and spiral themed toppers.
The colour of the bought toppers matched perfectly with the edible ones.
And there you have it a fun filled Happy 50th Birthday Cake.
Last edited: