Here is a quick step by step guide showing you how to make Coconut and Jam Cupcakes. I only needed a small batch and didn't want to waste any so I scaled down the recipe to suit my needs. This recipe will make you six luscious cupcakes, however, if you'd like to
make twelve
then just
double the quantities
.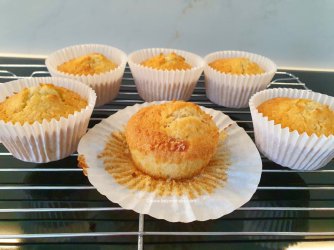 ​
Ingredients​
75 Grams - Softened Butter or Margarine
75 Grams - Granulated or Caster Sugar
1 and a Half Medium Eggs
75 Grams - Self Raising Flour
25 - 30 Grams - Desiccated Coconut (Extra for Sprinkling)
1 and a Half Teaspoons of Milk
6 Teaspoons of Strawberry Jam (Approximately)
Note:
For my cupcakes, I used Flora Buttery, Granulated Sugar and Semi-Skimmed Milk. I also used 25 grams of Desiccated Coconut which gave the cupcakes a nice hint of coconut and the extra sprinkling on the top gave it a lovely coconut crunch too. If you'd like a more intense flavour then definitely use the 30 grams of desiccated coconut or more, depending on how strong you'd like them to be.​
​
Equipment​
Mixing Bowl
Scales
Electric Hand Whisk
Spatula
Teaspoon(s)
Fork
Measuring Spoons
Small Bowl for Cracking your Eggs
Ice Cream Scoop (Optional)
Cupcake/Muffin Cases
Cupcake Tin
Method​
Preheat the oven to one of the following:
Fan assisted: 180°C
Regular Oven: 190-200°C
Fahrenheit: 356F
Gas Mark 4
1
Take your cupcake cases/muffin cases and place them into your cupcake tin.
2
Weigh out your butter and sugar and place them into the mixing bowl.
3
Cream the butter and sugar together using your electric whisk. Do this until they have turned pale in colour.
4
Crack an egg into your small bowl, then pour this into your mixing bowl. (This prevents any shell from entering your mixture). Whisk into the sugar and butter mixture.
5
Break your second egg into the small bowl and then beat with a fork, then
add half of the beaten egg
into your mixing bowl.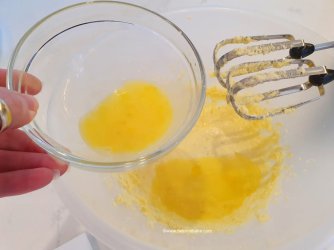 ​
6
Place the other half of the egg out of the way because we don't need it. Whisk the egg in your mixing bowl into your mixture.
7
Now weigh out your flour.
8
Pour the flour into the mixing bowl.
9
Weigh out the desiccated coconut, pour this into the mixing bowl and stir in using a spatula.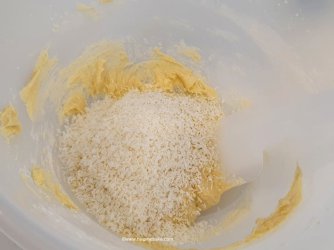 ​
10
Now measure out your milk using your measuring spoons and pour this into the mixture.
11
Combine together using the spatula.
12
Then lightly whisk the mixture for about 10 seconds.
13
Now take the ice cream scoop or spoon and place the mixture into the cupcake/muffin cases. I use one scoop per case. Leave a small amount of mixture in the mixing bowl when the cases are filled. (We will need this to top the cupcakes).
14
Then make a small dip in the centre of the cupcake and place a small amount of jam in the centre of each.
15
Cover the jam with the small amounts of mixture you have left in the bowl.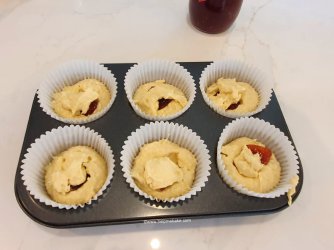 ​
16
Sprinkle additional coconut over the top of each cupcake using a teaspoon.
17
Then place the tin in the centre of the oven for around 15-20 minutes or until they have turned a golden colour. I did these ones for just over 17 minutes.
18
Once baked, remove from the tin and place on a wire rack to cool.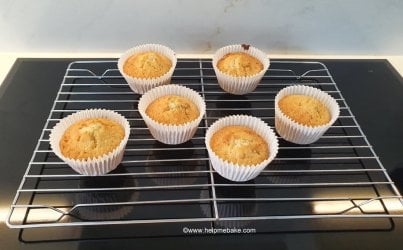 ​
​
And there we have it, a wonderful scrummy cupcake ready for afternoon tea.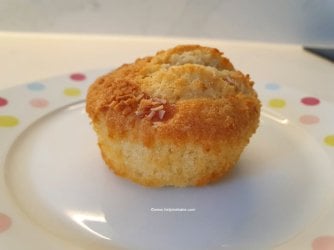 ​
​
Enjoy!
Last edited: