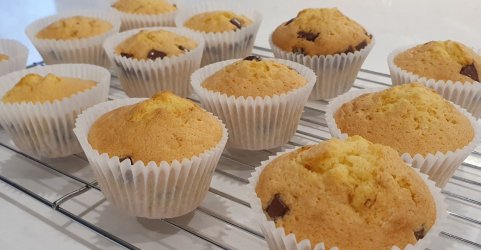 So I have finally broken in my new oven today and made these chocolate chip cookies...lol, erm cupcakes! I made them using large eggs, with orange yolks and dark chocolate chunks. I have sussed out that standing/prepping over a new oven makes me warm, and I can burn my hand when I place the cupcakes in the oven.
Anyway other than that they baked really well and taste really fluffy so not bad. I shall try and make sure I get back into the swing of baking now that the renovations have finally stopped. Hopefully, I will be regularly wowing you guys with some great cakes and bakes.
I do like my new worktop because I didn't even have to break out my photo studio to take this picture. What you can't see though are the bananas and oranges in the background. Hee hee!
Oh and just a point the cupcakes aren't the same size because I randomly put dollops of batter in the cases and then sprinkled the chunks on top, I then put another dollop on top and added some more chunks. Please note that 'dollop' is the technical term of choice for today! Lol! Happy Baking guys.