I've been meaning to put this picture on here for a while and have finally got around to posting it. As you know, Han already made the
Koya
topper and has now made more BT21 toppers by creating the head of RJ and then the whole body of Shooky.
She tells me that RJ is a Llama, although every time I see him, I want to call him a sheep; then there's Shooky, I'm not quite sure what he's supposed to be, but he always reminds me of the poo emoji for some reason.
Regardless of what they are, they deserve a place in this section, mainly because they make me smile each time I see them!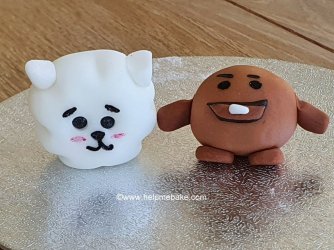 Last edited: