This is the recent Bob the Builder cake I made for my Dad's 70th Birthday.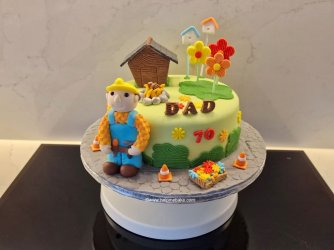 The cake is an 8-inch Madeira filled with jam and buttercream. It was then double iced in both white fondant and then pastel green fondant, which enabled me to get a smooth finish on the cake and ensured that nothing showed through, as I didn't have a lot of pastel green icing if I needed to recover it.
Most of the decorations are made from Saracino modelling paste to help with their structure, such as Bob the Builder, the shed, the bird boxes and the upright flowers. For the rest, I used regular Renshaw Icing Fondant.
The decorations were all made using a wood grain effect, as my Dad makes lots of things out of wood. the cobble effect on the base was also added using a cobblestone mould.
Han helped out a lot with this cake and even made the flower box at the front.
Last edited: