Here is the 18th birthday cake I made for my daughter. It comprises of 3 tiers, a 5-inch, 7-inch and 9-inch cake. Two tiers are made of up of chocolate chip Madeira cake, and the base is a dummy tier.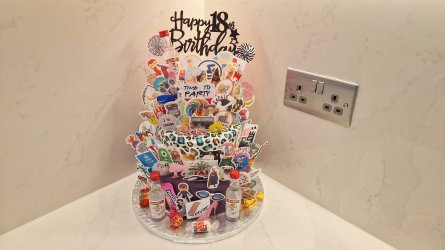 This is probably the most expensive, busiest, time-consuming, head-scratching cake that has really pushed me. I'm not sure what was going on with the icing/fondant on the day, but it's the first time I've ever had to triple-cover a cake tier! The top tier was covered in two layers of white icing before it was eventually covered in Renshaw Fuschia, the new and improved icing. This gave me the smooth finish I was looking for.
The middle tier was covered in white M&S icing and topped with Leopard Print Cake Wrap from
Sugar Fables
. This was something I had never used before, but after looking at the instructions they sent and watching a quick YouTube vid I had a better idea of what I was doing with it.
I stuck the cake wrap to the icing/fondant layer of the cake using piping gel and then cut slits into the paper to bend it over and cover the entire tier. I did the front first, but I did a better job of the back piece when cutting the strips to fit around the cake, so in future, I would probably start from the back first. Note to self: I would only cut the cake wrap into strips one piece at a time to get a better, tighter finish to the cake.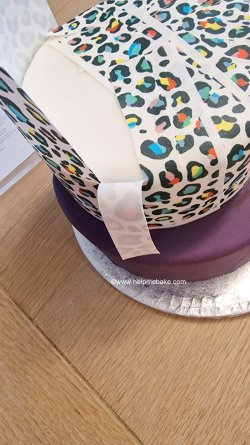 The third dummy tier was covered in Renshaw Dark Purple new and Improved icing.
The icing was handling like it was a hot summers day and very soft, but it eventually started to play nice, and I managed to get the finishes I wanted, albeit the icing was a little soft.
The theme of my daughter's cake was her life/memories in cake, cupcake toppers and cake wrap, as per her request. The colours and design of the cake were taken from an old cap she used to wear as a child.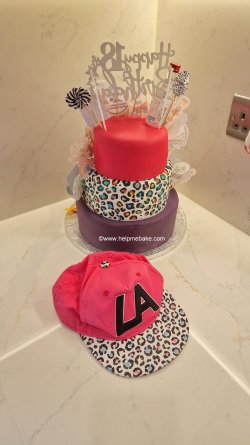 Overall, I'm happy with the cake and thankful for all the cupcake toppers that cake pre-cut!
She absolutely adores the cake and has spent time going through the layers and the stories of her life.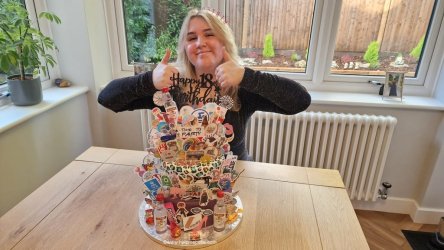 Last edited: