After recently seeing that a few of our friends across the pond have been making English bakes using beef mincemeat instead of sweet. I thought it would be an idea to put together a post that shows you how to make sweet mincemeat that you can use in mince pies, tarts and other bakes.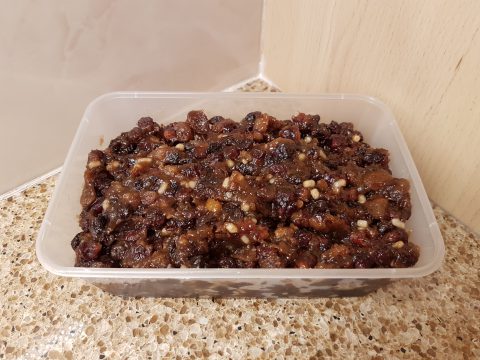 When the English talk about mincemeat in pies we are talking about the sweet kind, the one that contains elements of fruit that is similar to that used in Christmas Cake. So if you see a recipe for Christmas Mince Pies or An Apple and Mincemeat Tart, we will be talking about sweet mincemeat.
Here is a recipe that gives you an idea of what Sweet Mincemeat contains.
Ingredients
225 grams Currants
225 grams Sultanas
225 grams Raisins
225 grams Mixed peel or Dried Apricots
1 cored and chopped Baking Bramley Apple
50 grams Chopped Almonds
250 grams Soft Dark Brown Sugar
100 grams Shredded Suet
1 teaspoon of Mixed Spice
Zest and Juice of an Orange and Lemon, or replace this with Brandy for added luxury!
Method:
1. Mix all the ingredients with a large spoon 0r your hands and, place in a sealed container and cover for two days to allow to mature.
2. After it's matured, stir and either use in Christmas Mince Pies or Pot in sterilised jars.







I'm here to help inspire you, teach you and extract your hidden talents. I will introduce you to the fun limitless world of baking, cake making & ...