Here is a Beauty, and the Beast themed birthday cake that I recently made for our friends' granddaughters 2nd birthday celebrations. The cake was romantic in nature and inspired by their love story, and the swags and drapes found on Belle's dress.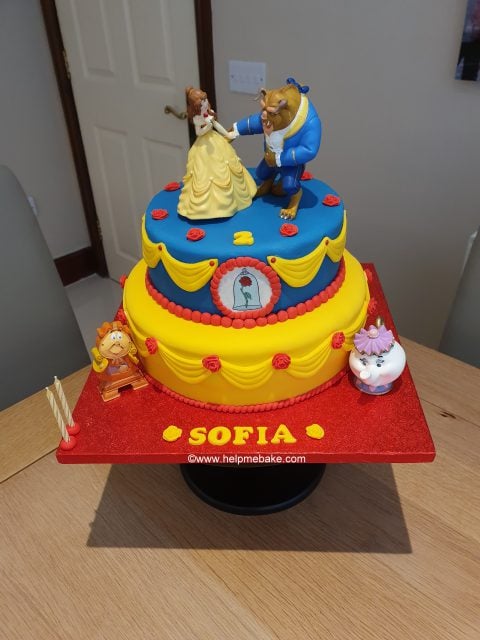 Cake:  
I chose to use a Vanilla Madeira Sponge Cake due to its sturdy nature and filled it with lashings of jam and buttercream.
The cake comprises of a 7-inch top tier and 9-inch base tier.
Fondant/Icing: 
I wanted the cake to be bold and bright, so I opted for Renshaw/Renshaw Extra Icing and used the colours:
Poppy Red
Yellow/Yellow Extra Icing
Atlantic Blue
Characters: 
The Beauty and the Beast Characters used as cake toppers were from Bullyland via Amazon.
Problems Encountered:
I initially thought Belle would be the character to cause me an issue because she is relatively flat underneath and I didn't have anything to anchor her to the cake with, however, after sticking her to the tier with Royal Icing she stayed in place. Unfortunately, it was The Beast that caused me the most problems, the reason being he is top-heavy and doesn't have a level footing.  Originally, I pushed his feet into the top tier and stuck him using Royal Icing, but after an emergency stop in transit, the Beast fell off and took a nosedive into tier number one. When he fell, he slightly tore the top tier, so I was a little bit of a loss how to adhere him for a second time without him falling off again.
Solution:
So after a cake dreamed sleep and umpteen ways of trying to work out how to put him back together I eventually came up with the plan to build a wedge under the back of his front foot where it raises (using Atlantic Blue Icing and some CMC powder) and then covered his back toes which sit under Belle's dress (to counterbalance him) with more hardened fondant icing. He hasn't moved since then, so fingers crossed he's set in place!
Decorations:
To enhance the cake and keep with the theme, I used:
Red PME Balls to decorate the swags on tier one.
Tools & Moulds:
For the name, swags and borders, I used the following moulds.
Red & Yellow Roses – Multi-sized Rose Mould
First Tier Border – Pearl/Beading Mould
Conclusion:
Overall this cake has tested a considerable amount of my patience and has pushed boundaries with regards to gravity, weight, distribution and staying together. However, the final results look fab, and a little girl will be thrilled!







I'm here to help inspire you, teach you and extract your hidden talents. I will introduce you to the fun limitless world of baking, cake making & ...