In light of the recent campaign to storm Area 51 and free all the aliens I thought it might be quite fitting to make a cake to celebrate the event. As you can see, Aliens do exist and look extremely happy to be escaping! #Area51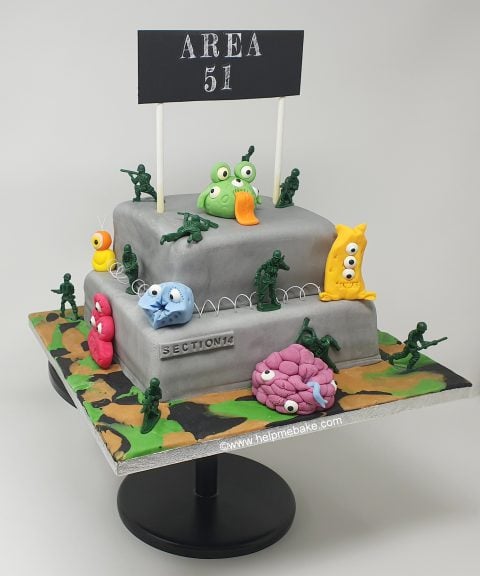 Please note that no aliens or soldiers were harmed in the making of this cake!
On a more informative note, the breakdown of this cake is as follows.
Cakes
The cakes are 6 and 8-inch square Madeira sponges that were filled and covered with Chocolate fudge icing.
The two tiers are covered with black and white Renshaw's fondant icing that I mixed to make the marble grey colour.
Non-edible decorations
The plastic soldiers are Tobar Army Troopers from Amazon; they were washed in hot soapy water and dried before being placed onto the cake.
The barbed wire is made from #22 florist wire that was wrapped around a pen to make the shape.
The Area 51 sign is black card, letter stickers and white paper straws I then inserted into the cake. The only issue I had with the straws is that after a while, they started to turn yellow as they absorbed the butter from the cake.
Edible decorations
The Aliens were created using different coloured packs of Renshaw icing, and the Alien eyes are Edible Eyes by Cake Decor.

#decoreasy

The camouflage on the base of the board was made by taking balls of Renshaw's Black, Teddy Bear Brown and Lincoln Green icing, rolling it out and then placing it in patches on the base. It was stuck using a little water.
The Section 14 sign was made using a Kitchen Craft message maker.
My daughter and her BIG imagination created the aliens that take pride of place on this cake!
You'll be pleased to know that the Aliens won't get very far and will be devoured later today!







I'm here to help inspire you, teach you and extract your hidden talents. I will introduce you to the fun limitless world of baking, cake making & ...