Blind baking or baking blind is the term used to bake pastry or a pie crust in the oven without any filling. To assist with this process, the pastry is weighed down with baking/greaseproof paper and some form of ceramic beans, uncooked rice or pulses while it bakes.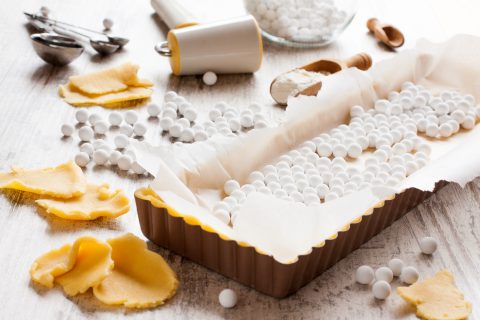 Reasons why we blind bake:
Pre baking the base allows it to set so that a cold filling can then be poured into it.
The shortcrust pastry is pre-cooked because the filling that's added has a shorter cooking time or lower baking temperature.
Pre baking the pastry or pie crust will prevent a soggy bottom.
How to blind bake – Method:
1. Firstly roll out your pre-made or shop-bought shortcrust pastry to the shape of your tin allowing a little extra to go up the sides of the tin/dish. (You do not need to grease the tin).
2. Roll the pastry over the top of the flan dish/tin then push it into the base and up the edges.  Cut off any excess with a knife; however, you may wish to leave a little extra on to allow for shrinkage. Now prick the base with a fork.
(Chill the pastry-lined tin in the fridge for 15-30 mins before baking if you have the time. The colder the pastry, the better the results).
3. Once chilled, remove from the fridge then cut a large piece of baking paper, cover the pastry and allow the excess to stand upwards around the edges of the tin.
4. Fill the baking paper with ceramic beans, uncooked rice, or something similar liked dried pulses to weigh it down. These will help to keep it in place and conduct heat while baking.
5. Bake the pastry according to your recipe guide usually for about 10-15 minutes, then remove the paper and beans/pulses and place back in the oven for around 5-10 minutes until it turns golden.
Related Posts:
Hints and Tips on making the best pastry.







I'm here to help inspire you, teach you and extract your hidden talents. I will introduce you to the fun limitless world of baking, cake making & ...