Here is a recipe and guide teaching you how to make your very own 7 x 3 inch Victoria Sponge Cake.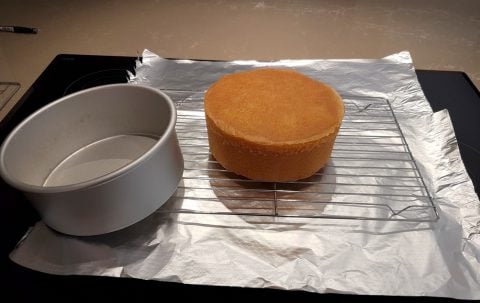 Equipment
7 x 3 Inch Cake Tin
Baking Paper (For lining your Tin)
Scales
Hand whisk/Stand Mixer
Mixing Bowl
Small Bowl
Spatula
Cake Greaser Spray
Tin foil (Optional)
Wire Rack
Ingredients
200 Grams or 7oz Margarine
200 Grams or 7oz Granulated Sugar
4 Medium Eggs (At room temperature)
200 Grams or 7oz Self Raising Flour
Pre-heat your oven to one of the following –
Fan assisted: 150°C
Regular oven: 160 – 170°C
Gas Mark: 1 – 2
Fahrenheit: 302
Method
1. Weigh out the granulated sugar & margarine and place them in a mixing bowl.
2. Combine the butter and sugar using a handheld whisk or a stand mixer. (You can use a wooden spoon, but you won't incorporate as much air into the ingredients). The more you mix the ingredients the paler the mixture will go, once pale, place the mix to one side.
4. Take your (room temperature) eggs and crack them into a small bowl. (I do this so that if any shell breaks off, it is easier to remove from the bowl rather than your cake mix).
5. Pour the eggs one at a time into the mixed margarine and sugar and then quickly mix them in with the whisk, this should take about 10-15 seconds per egg.
6. Once all the eggs have been incorporated it may look a little curdled but this is fine.
7. Now weigh out your flour and pour into the mixture. Normally with flour, I would sieve into the mixture; however, with this recipe, I have never needed to do so I don't bother. (You may sieve if that's what you prefer).
8. Slowly fold the flour into the mixture using a spatula or spoon. (I do this so that when I come to whisk in a minute, it doesn't fire up and cause flour dust to go all over the place).
9. Once folded, put the whisk on a medium to high speed and blend the ingredients together, I do this for about 30-40 seconds.
10. Taste the mixture with a small spoon; if it tastes powdery whisk a little more, if it tastes smooth, then you are ready to pour.
11. Take your cake tin and grease it with cake spray, line the bottom with baking parchment paper then pour the cake mixture into the tin.
12. Place the cake on the middle shelf of your pre-heated oven and bake for approx 55-60 minutes.
13. Once baked test with a skewer, insert the skewer into the centre of the cake, if it comes out clean (with no gooey bits on it) then it is fine to remove from the oven. If it has gooey bits put back in for about another 5 mins and then test again, do this until fully baked.
14. Once thoroughly baked remove from the oven and stand the cake & tin on a wire rack for approx 10 minutes to allow to cool.
15. Once cooled, tip the cake out onto a wire rack and allow to cool fully. (I place tinfoil underneath the wire rack so that the excess crumbs don't go everywhere however this bit is optional).
16. When fully cooled, decorate or fill as desired.







I'm here to help inspire you, teach you and extract your hidden talents. I will introduce you to the fun limitless world of baking, cake making & ...