Here is your recipe and guide on how to make these melt in the mouth oat cookie biscuits.
This recipe makes approx 10 -15 Oat Cookie biscuits depending on size.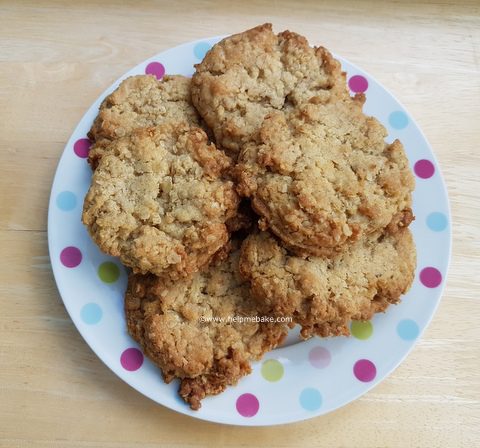 Pre heat your oven to one of the following:-
180°C Fan Assisted
190-200°C Regular Oven
Gas Mark 4
356F
Ingredients:-
150 grams or 6oz Porridge Oats
150 grams or 6oz Granulated Sugar
150 grams or 6oz Self Raising Flour
150 grams or 6oz Unsalted Butter
1 Tablespoon Golden Syrup
1 Tablespoon of Milk
*Approx 50 grams of choc chips may also be added to this recipe to make chocolate chip oat cookie biscuits if required.
Method:-
​1. Weigh out the porridge oats and granulated sugar and place them in a mixing bowl.
2. Now weigh out your self raising flour and then sift that into your mixing bowl.
3. Stir the dry ingredients together using a fork and then place the bowl to one side.
4. Take your unsalted butter, weigh it and then slice the butter into cubes or slices into a medium pan. (This allows it to melt quicker).
5. Add your tablespoon of syrup and milk to the pan and warm through on a medium heat, stir through until the butter has melted into liquid along with the remaining ingredients.
6. Remove the pan from the heat then pour the wet ingredients into your mixing bowl.
7. Stir the wet and dry ingredients together using a spatula, the ingredients should start to bind together to form a dough ball. (If you wish to add the *choc chips add them here after you have mixed the wet and dry ingredients together).
8. Now you can either scoop out the ingredients using an ice cream scoop or use your hands. I used my hands and scooped out a golf ball-sized ball and then packed it between my hands and then flattened it slightly.
9. Place your flattened cookie balls on a pre-lined baking tray. I got around 6-8 cookies to a tray. Leave a little space in between the cookies so they're easier to remove later.
10. Put them on the second shelf of the oven and bake for approximately 10-15 mins or until they turn golden brown. I did mine for approximately 13 mins in a fan assisted oven.
11. Once baked remove from the oven, leave on the tray for 5 mins then transfer the oat cookie biscuits to a wire rack whilst still attached to the baking parchment.
12. Once cooled remove from the parchment, eat straight away or place them on a plate and cover with cling film or saran wrap until required.
Please note these biscuits are very moreish so one biscuit may not be enough! 😉
Here are what the chocolate chip oat cookie biscuits look like.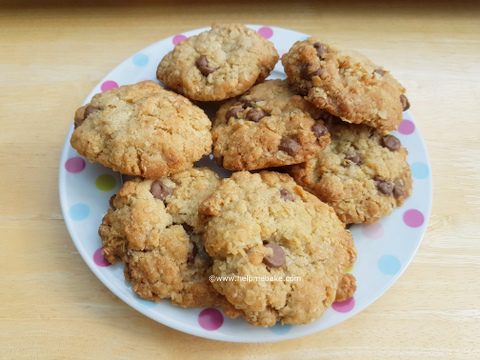 I'm here to help inspire you, teach you and extract your hidden talents. I will introduce you to the fun limitless world of baking, cake making & ...