Here is a recipe and guide on how to make melt in the mouth low carb Peanut Butter Cookies!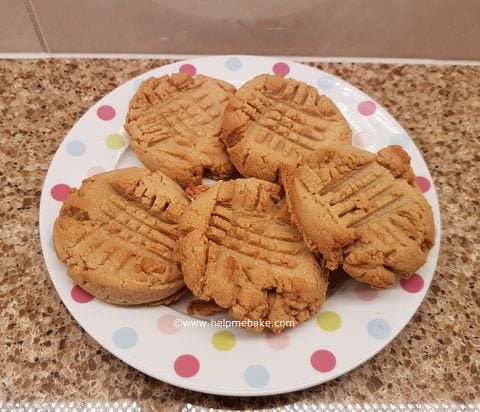 Pre heat your oven to one of the following:-
180°C Fan Assisted
190-200°C Regular Oven
Gas Mark 4
356F
Ingredients:-
10 grams Stevia or alternative Powdered Sweetener
220 grams Peanut Butter
1 medium Egg
This recipe makes around 6-7 cookies depending on sizing.
Method:-
1. Weigh out your Stevia or powdered sweetener and place it into a mixing bowl.
2. Then weigh out the peanut butter and place in the same bowl.
3. Now add the egg.
4. Mix the ingredients together with an electric whisk on a moderate speed.
5. Once combined scoop out the mix using an ice cream scoop and place on a pre lined baking tray, then flatten the mixture by pressing it down with a fork. Do this until you have used all the mixture.
6. Now place in the oven for approx 10-15 minutes or until the edges turn slightly brown. I did mine for approximately 13 minutes.
8. Once baked remove from the oven and place the tray onto a wire rack.
9. Allow the biscuits to settle for a few minutes then slide the baking parchment with the cookies attached carefully onto the wire rack to enable them to cool fully.
10. Once cool peel the cookies off the parchment paper and enjoy.
Once fully baked and cooled I wrapped the low carb peanut butter cookies in clingfilm (saran wrap) to keep fresh.







I'm here to help inspire you, teach you and extract your hidden talents. I will introduce you to the fun limitless world of baking, cake making & ...