Here is a your recipe and guide on how to make Chocolate Shortbread thumb biscuits.​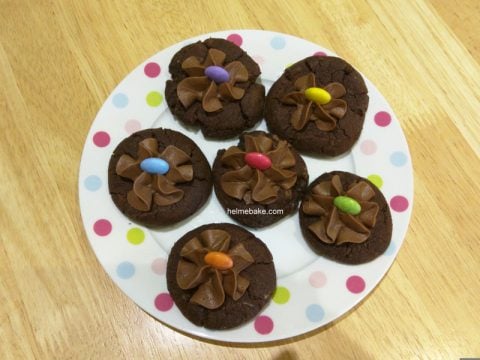 Pre heat you oven to one of the following:-
Fan assisted: 150ºC
Regular oven: 160º/170ºC (Approx)
Fahrenheit: 300F
Gas Mark: 1
Ingredients:
125 grams / 4 oz Self Raising Flour
75 grams / 2.7 oz Unsalted Butter
25 grams / 1 oz Trex or White Vegetable Fat (Crisco USA)
50 grams / 2 oz Granulated Sugar
25 grams / 1 oz Cornflour
4 Tablespoons Cocoa Powder
Topping:
125 grams / 4 oz Icing Sugar
50 grams / 2 oz Unsalted butter.
1 Tablespoon Cocoa Powder
1-2 Teaspoons of Milk or Warm water.
Smarties or Chocolate buttons to decorate.
Biscuit Method:
1. Lightly grease 1- 2 baking trays and cover with baking parchment, then place to one side.
2. Sieve the flour into a mixing bowl.
3. Weigh out 75 grams of the pre softened butter, cut into cubes, then place in the mixing bowl with your sifted flour. Place the remaining butter to one side as this is used for your topping.
4. Weigh out your Trex or vegetable fat and add to the bowl.
5. Using your fingertips rub the flour, butter and trex together in between your fingertips until all the ingredients has combined and it looks like bread crumbs.
6. Now pour in the sugar and stir in using a fork.
7. Sieve the cornflour, and 4 tablespoons of cocoa powder, stir into the mixture using a spoon, then place your hand in the bowl and start pushing the ingredients together to form a dough.
8. Now scoop some of the mixture into your hands and in a circular motion roll them into a small ball size, similar to that of a table tennis or ping pong ball.
9. Once rolled place on the baking sheet on the tray and then squash down slightly using your thumb to make an indent.
10. Place roughly about 6 onto each tray and space them apart as the biscuits spread slightly whilst baking.
11. Bake in the pre heated oven for approx 20-25 mins, I do mine for 23 mins.
12. Remove from the oven and lift the parchment paper from the baking tray and place onto a wire rack to allow the biscuits to cool. (In the event your biscuits break apart, they may need an extra minute in the oven.)
13. After a few minutes, remove the biscuits from the parchment using a cake slice and them place them directly onto the wire rack to cool fully.
Topping Method:
1. Sieve the Icing sugar into a bowl.
2. Cut the remaining 50 grams of your pre weighed butter into cubes and place in the bowl.
3. Add your tablespoon of cocoa powder and start mixing together using a wooden spoon.
4. Once the mix starts to bind together add a little milk to help wet the mixture a little and bind it together more.
5. Once it is combined, place a nozzle into a piping bag (I used a 1M nozzle) and then spoon the chocolate buttercream into a piping bag. If you do not have a nozzle simple fill the piping bag and then snip off the end.
6. Holding the piping bag at a 90° angle, squeeze down and then bring the bag up slightly and release your grip. You should now have some chocolate buttercream on the top of your biscuit.
7. To finish off top with a smartie or a chocolate button.
These biscuits are best eaten on the day they are made however they can be stored in a plastic tub topped with clingfilm (saran wrap).







I'm here to help inspire you, teach you and extract your hidden talents. I will introduce you to the fun limitless world of baking, cake making & ...