These enchanted fairy garden cupcakes are a wonderful design for a little girls birthday. Whip up some marvellous magic with the fairy wand, relax and take off those fairy shoes, enjoy the enchanted delights of the garden with the lovely ladybug, cute caterpillar and of course the terrific toadstool. We will be making these fairytastic cupcakes on the Enchanted Cupcake Class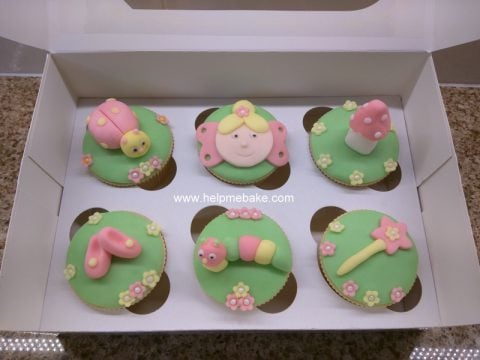 Date: Monday 14th September 2015
Time: 7:00pm – 9:00pm
Cost: £25 per Adult or £20 per Child* (11-17yrs)
Ref: HMB120 – Enchanted Fairy Garden Cupcake Class
Venue: Standish Community High School, Kenyon Road, Standish, Wigan, WN6 0NX
Description:
Welcome to our Enchanted Fairy Garden cupcake class where we will be making lovely ladybugs, terrific toadstools and a whole host of other fairy creatures that will delight your little ones.
On this two hour session you can relax; have fun watching our demonstrations and then indulge yourself in creativity and enjoyment. Everything is provided, including the freshly baked cupcakes and we even offer light refreshments too.
So if you fancy trying something new, having a bit of 'me time' or you want to meet some new people then this class is just for you.
Join us, everyone is welcome, no prior experience is necessary and you even get to take home a box of 6 freshly decorated cupcakes at the end of the evening. What could be better than that!
To book a place on this course simply choose one of the following options and I look forward to teaching you soon. 😀
Payment options: –
Text or call me direct and Pay by Bank transfer.
Text or call me direct to reserve your place and then pay on the evening.
Pay using the PayPal links below….
*Children aged between 11-17 must be accompanied by an Adult throughout the workshop.
Please also read T&C's before booking you places.
Thank you.
For further info also see Enchanted Cupcakes







I'm here to help inspire you, teach you and extract your hidden talents. I will introduce you to the fun limitless world of baking, cake making & ...