Here are the pretty edible designs that we will be making on the upcoming workshop. From a cherry blossom tree, to nesting birds, butterflies and flowers you can feel spring is definitely in the air. Even better treat your Mum to a workshop for Mother's Day! Join us…Springtime Cupcake Workshop.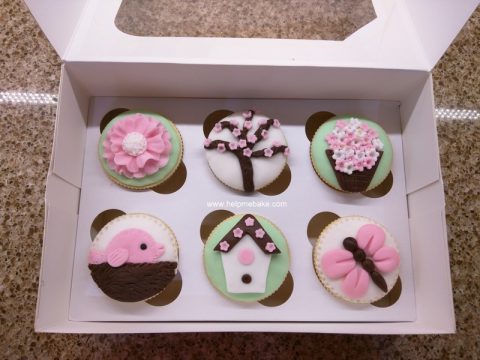 | | |
| --- | --- |
| Ref: | HMB116 Springtime Cupcakes Workshop |
| Date: | Monday 23rd March & Monday 30th March 2015 |
| Time: | 7:00pm – 9:00pm |
| Cost: | £20 per Adult or £15 per Child* (11-17yrs) |
| Venue: | Standish Community High School, Kenyon Road, Standish, Wigan, WN6 0NX |
Due to popular demand we will be adding an extra date for the Springtime Workshop!
The birds are singing the sunshine is in your hair and there is most definitely a spring in your step. So if you fancy a tweet then come along to our Springtime Cupcake workshop.
Join in the fun, where no prior experience is necessary, demonstrations and help are provided throughout the night, there are light refreshments and you take home a box of 6 freshly decorated cupcakes at the end of the evening.
Should you have a question/query regarding this workshop or wish to book direct then please call me,please read T&C's.
Payment:
1. Text or call me direct and Pay by Bank transfer.
2. Text or call me direct to reserve your place and then pay on the evening.
3. Pay using the paypal links below…..
*Children aged between 11-17 must be accompanied by an Adult throughout the workshop.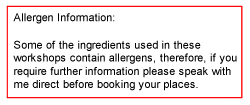 Further info Springtime Cupcakes Class







I'm here to help inspire you, teach you and extract your hidden talents. I will introduce you to the fun limitless world of baking, cake making & ...