This saw blade tool cake was made for my Dad who has recently celebrated 25 years in business. The cake itself is a marble cake, covered in icing fondant which was dyed using, paprika, autumn leaf and brown sugarflair (concentrated) dyes to make a wood grain effect.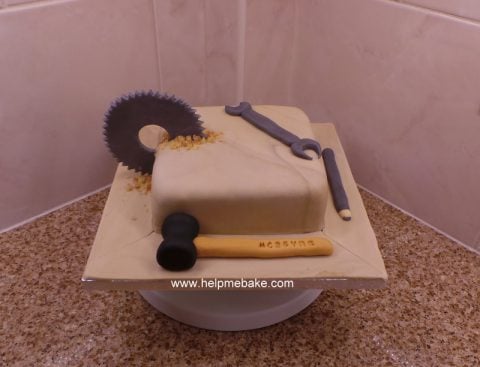 The grey edible saw blade icing was made by mixing black and white icing together to make a deep grey colour.
The hammer handle was made using the autumn leaf dye along with a little tangerine dye added in. I shaped the top of the hammer using my hands, I rolled a large sausage and then flattened the ends by hammering it lightly onto the work surface.
The spanner was made by rolling a sausage shape and then flattening it, then I rolled two balls, flattened them and then used a small circle cutter to remove a section to give me the spanner edge shapes. I then soften and smoothed the edges with my fingers.
The saw blade was made using grey icing fondant that had an added hardening agent tylo powder added to it. Then I cut a large circle with circle pastry cutters and then cut a further circle in the middle. I then used the end of a heart shape cutter to create the spiked edge. I then left this to dry overnight to ensure it was hard enough to stand and hold it's own weight.
The crumb effect is actually some crumbs from the interior cake which I kept when I levelled the cake originally, I crumbled part of the cake up and placed it into a food bag until needed. I stuck it to the cake using a small amount of water.
Please also see Dad's 25 Year Saw Blade Cake for additional tool and cake info.







I'm here to help inspire you, teach you and extract your hidden talents. I will introduce you to the fun limitless world of baking, cake making & ...