I came across this lovely recipe the other day when I was in fact privy to taste a lovely piece of the cake itself. Jackie who is a friend of the family made this cake for my parents and sent along the recipe with it. Not only do I get to eat delicious cake, I also get to share the recipe with you guys too!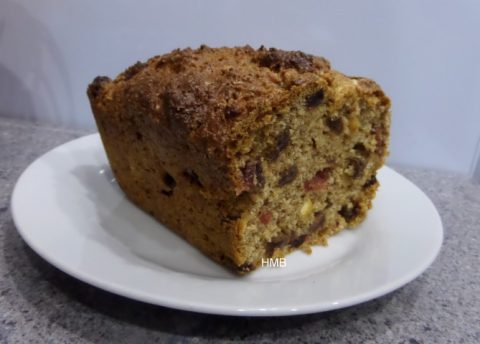 Pre heat your oven to:
180°C Regular Oven
160°C Fan Assisted
Gas Mark 4
320F
Ingredients: These are given in normal mug sized cup sizes.
1 Cup (Mug) All Bran Cereal
1 Cup (Mug) Sugar (Jackie used half a mug of sugar)
1 Cup (Mug) Mixed Fruit
1 Cup (Mug) Milk
Mix all together and leave to rest overnight.
Next day….
Add 1 Cup (Mug) Self Raising flour to the mix and blend together using a whisk.
Pour the contents into a lightly greased loaf tin.
Bake for approx 1 hour and 10 mins or until the cake is golden brown and a skewer comes out clean.
Remove from the oven then leave to cool for five minutes.
Pour from tin and leave to cool on a wire rack.
Enjoy with a pot of tea.
(I have been informed by my dad that spreading slices of the fruit loaf with Lurpak butter makes the cake extra scrumptious).







I'm here to help inspire you, teach you and extract your hidden talents. I will introduce you to the fun limitless world of baking, cake making & ...