These are the toppers we will be making on the Valentine's Day workshop. Nothing says I love you more than sweet treats made by you! So with a set of luscious lips, some succulent strawberries and other little edible treats come and enjoy our fun filled evening!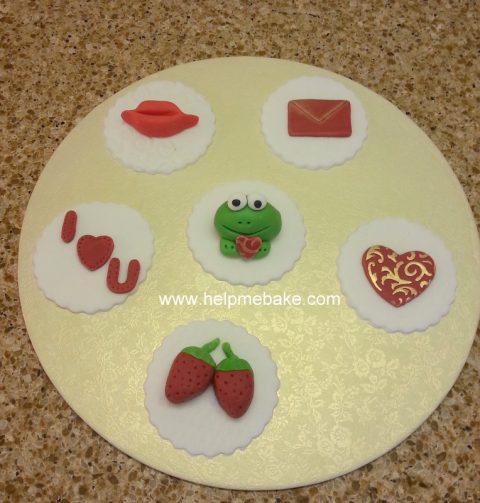 Date: Monday 10th Feb 2014
Time: 6:30 – 8:30pm
Cost: £20 per person.
Ref: HMB108 – Valentine's Cupcake Workshop.
Venue: Standish Community High School, Kenyon Road, Standish, Wigan, WN6 0NX.
Description:
Valentine's day is fast approaching and love is most definitely in the air, so treat yourself or the ones you love to our fun filled event.
Our workshop may inspire you or give you the skills you need to surprise your cherished ones or could be purchased as part of a his 'n' hers gift too. We will incorporate plenty of ideas and fill the workshop with all things 'love' so you're sure to have a great time.
I provide everything on this course so bring your friends, family or just yourself, I offer light refreshments and a fun few hours and when you've finished you get to take home a box of 6 cupcakes that you can devour!
No prior skills are required so come join us and learn new skills. Everyone is welcome.
Should you wish to speak with me regarding the workshop then call Angie.
Otherwise please read the T&C'S and then book online.
*Please note you do not need a Paypal account to purchase a place online:-
See Valentines Workshop for the goodies we made.







I'm here to help inspire you, teach you and extract your hidden talents. I will introduce you to the fun limitless world of baking, cake making & ...