This is a recipe and guide on how to make a mouthwatering no bake treat! This Tiffin recipe will leave you wanting more, it's extremely moreish so beware, you have been warned.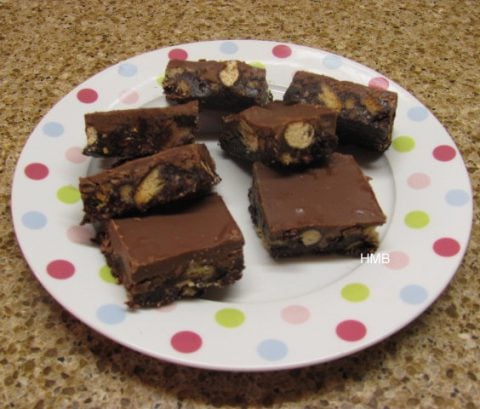 Ingredients:
100 grams Unsalted Butter
100 grams Golden Syrup
25 grams Cocoa
250 gram Pack of Digestive Biscuits (Graham Crackers)
1 Small Bag of Maltesers
200 grams of Milk chocolate.
1 x Greased 7 inch square tin.
Method:
1. Place the butter, syrup and cocoa into a pan and melt on a low heat.
2. Stir the butter mix until melted and remove from the heat.
3. Place about 3/4 of the pack of digestives into a food bag along with the Maltesers and bash with a rolling pin until you get lots of broken biscuits and crumbs.
4. Pour the broken biscuits into the pan and stir together using a spatula ensuring all the biscuits are covered.
5. Pour the combined mix into the greased tin.
6. Melt the 200g of chocolate in the microwave in 30 second intervals until fully melted, alternatively melt it in a glass bowl over a pan of hot water.
7. As soon as the chocolate is melted pour over your biscuit mix and leave to cool.
8. Once cool cover in clingfilm and place in the fridge for 1-2 hours before cutting into squares and serving.







I'm here to help inspire you, teach you and extract your hidden talents. I will introduce you to the fun limitless world of baking, cake making & ...