These are the Christmas cupcake topper models we made on our latest cupcake workshop. We have our token snowman, Santa stuck in the chimney, a festive penguin followed by a polar bear, the bag of presents and finished off with some Christmas pudding. I think we have just about covered everything barring the reindeer but we can't have everything they will be made on another class!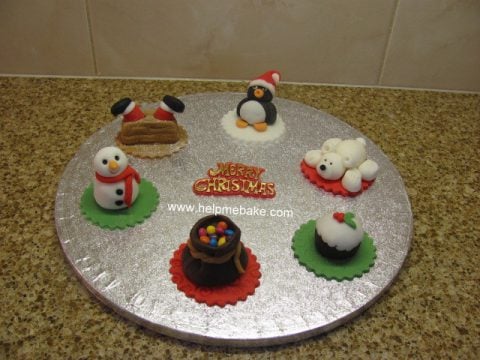 Date: Monday 25th November 2013
Time: 6:30pm – 8:30pm
Cost: £20 per person
Ref: HMB106 – Creative Christmas Cupcake Workshop
Venue: The Craftwork Studio, Rear 22 Preston Road, Standish, Lancs, WN6 0HS – (Parking is available).  Situated behind Standish Print
Description:
This cupcake workshop is a truly festive treat and could be purchased as part of a Christmas present for a special somebody. To get into the festivities we will be making everything from snowmen, penguins to the Super Santa himself. So with sugar and spice we'll create all things nice!
I provide everything on this course so bring yourself, your friends or even your Mum, I offer light refreshments and a fun few hours and when you've finished you get to take home a box of 6 cupcakes that you can devour!
So come join us, learn new skills, everyone is welcome. (No prior skills required).
Should you wish to speak with me regarding the workshop then call Angie.
Please read the T&C's before booking.
Read more about our fun Christmas Cupcake Workshop







I'm here to help inspire you, teach you and extract your hidden talents. I will introduce you to the fun limitless world of baking, cake making & ...