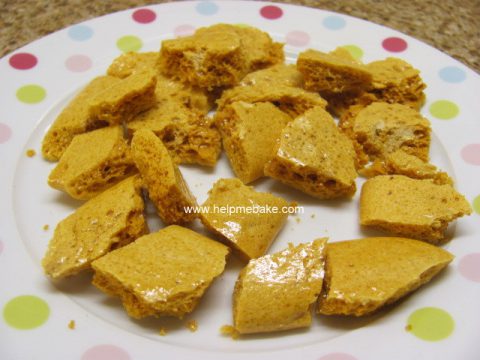 Ingredients:-
5 Tablespoons Golden Caster Sugar (Granulated may be substituted).
2 Tablespoons Golden Syrup
1 Teaspoon Bicarbonate of Soda
Wooden spoon
Pre-greased 7″ Sandwich tin.
Method:
1. Pour the Sugar and Syrup into a medium sized pan and place on a medium heat. (I used no 4 on my hob).
2. Allow the syrup and sugar to melt, if there is raw sugar on the top shake the pan to allow the sugar to be absorbed into the mix. DO NOT STIR. (Just remember James Bond….Shaken not stirred!) 😉
3. Bring the mix to the boil and then simmer for approx 4 minutes. The mix will be bubbling and going a golden brown colour.
4. This is the very quick bit. Remove from the heat, add the teaspoon of bicarbonate and mix in using a wooden spoon (the mix will froth and bubble) pour immediately into your sandwich tin. Leave to cool.
5. Once cooled break using the bottom of a knife or a food hammer.
Tip: Blend in the food processor to make small pieces, this can be used to sprinkle on ice cream or cupcakes.
Score the mix whilst still hot in order to break into squares and then dip in melted chocolate.
Store in a tin.







I'm here to help inspire you, teach you and extract your hidden talents. I will introduce you to the fun limitless world of baking, cake making & ...