Here are your recipe and guide on how to make gingerbread. These can be adapted for seasonal use such as Halloween and Christmas.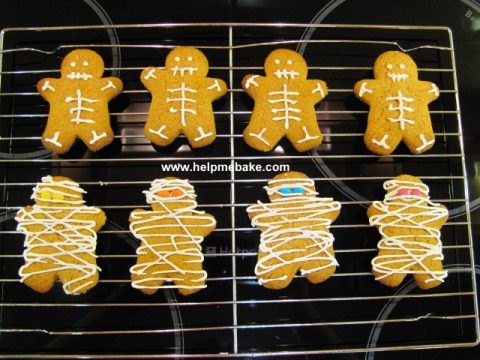 Recipe Rating: 
Preheat your oven to: 
Fan Assisted: 200°C
Regular Oven: 220°C
Gas Mark 6-7
392F
Ingredients:
75g/3oz Margarine
75g/3oz Demerera Sugar
2 Rounded Tablespoons Golden Syrup
200g/8oz p flour
1 teaspoon baking powder
1 teaspoon bicarbonate soda
½ – 1 teaspoon ground ginger
*2 Extra Tablespoons Golden Syrup if needed.
Decoration:
Royal Icing
Edible Sweets/Smarties
Method:
1. Cream the margarine and sugar into a mixing bowl
2. Now add the syrup, flour, baking powder, bicarbonate of soda and ginger and whisk together.
3. If the mixture is a little dry and not combining add 1-2 extra tablespoons of syrup and whisk to help the mixture combine fully. It should go into a ball shape and be easily picked up.
4. Dust the surface with plain flour and lightly coat the ginger batter to enable you to easily roll out and into shapes. Ensure you keep turning the ginger mix when you have rolled so that it does not stick to the surface.
5. Cut out required gingerbreads or shapes, place on a pre-greased tray.
6. Bake in the preheated oven (middle shelf) for approx 8-10 minutes until golden brown.
7. Once done remove from the oven and cool on a wire rack.
8. Decorate as required.
Store in a tin.
Please Rate here:







I'm here to help inspire you, teach you and extract your hidden talents. I will introduce you to the fun limitless world of baking, cake making & ...