How to make Choux pastry recipe and guide.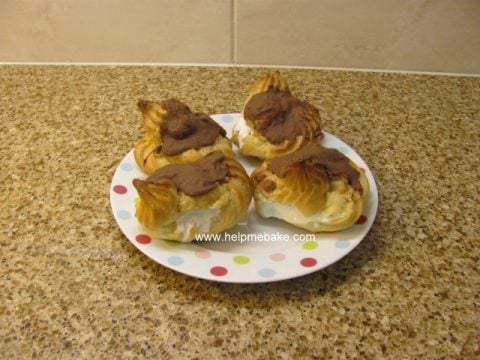 Pre heat the oven:
Fan assisted 210/220°C
Regular Oven 230°C – 240°C
Gas 7
410F
Ingredients:
100g/4oz butter
250ml/ half pint water
125g/5oz plain flour
4 eggs lightly beaten
Method:
1. Place butter and water into a pan and bring to the boil.
2. Once boiling, take off the heat, pour the flour directly into the pan and stir together with a wooden spoon.
3. If the mixture has combined (looks a bit like scrambled egg), transfer to a jug and then whisk to assist the mix to cool quicker.
4. Set your whisk to high speed and start pouring the beaten eggs in a little at a time.
5. Continue this process until the mixture has combined and now looks like bread dough.
6. Transfer the mix to a piping bag and pipe eclair shapes or pipe buns or balls onto a greased tray.
7. Place in the pre heated oven for about 15 mins until crisp and golden.
8. Once baked remove them, make a slit in the side of each one to allow the steam to escape then place them back in the oven for a few minutes, this ensures the centres are cooked and not soggy. Once fully baked remove again.
9. Place on a wire rack to cool.
10. When cooled fill with double cream (that has been whisked to thicken) or fresh squirty cream and then drizzled with melted chocolate.
11. Serve Immediately.







I'm here to help inspire you, teach you and extract your hidden talents. I will introduce you to the fun limitless world of baking, cake making & ...