Sticky Toffee Pudding Recipe and guide.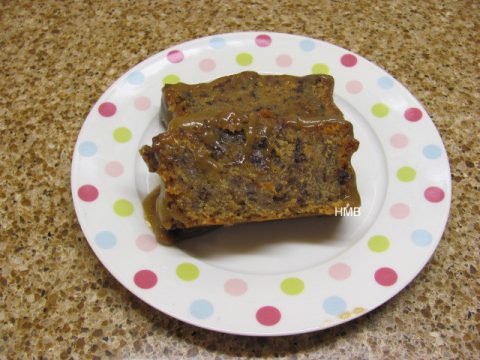 Pre heat your oven to approx:
175°C Fan Assisted
195°C Regular Oven
Gas Mark 4
347F
Ingredients:
75g / 3oz Unsalted Butter
125g / 5oz Soft Brown Sugar
2 Eggs
1 Tablespoon of Coffee Essence (Camp Coffee Essence) or (Dissolved Coffee and water)
150g / 6oz Self Raising Flour
150g / 6oz Stoned Dates (Finely chopped in the food processor).
150ml / 6 Fl oz Hot Water
Sauce:
100g / 4oz Unsalted Butter
150g / 6oz Soft Light Brown Sugar
1/4 Pint Double Cream
Method:
1. From the ingredients list – Cream together the 75g Butter and 125g Sugar using an electric whisk.
2. Add the eggs one at a time and whisk in.
3. Pour in the coffee essence and flour and whisk in on a medium speed.
4. Add the dates and the hot water in 50ml stages (you may not need to use it all) and whisk until the mixture is little wetter than a soft dropping consistency.
5. Pour the mixture into a greased 7″ square tin or loaf tin about two thirds full. This ensures you have enough room for the cake to rise and the sauce to be added after baking.
6. Place in the oven and bake for approx 45-50 mins.
7. For the sauce place the butter and soft brown sugar into a pan on a low heat until melted.
8. Add the double cream, stir and warm through. (DO NOT BOIL)
9. Once the pudding has been removed from the oven pour the sauce over the hot sponge and allow to soak.
10. Serve with custard or Ice cream.







I'm here to help inspire you, teach you and extract your hidden talents. I will introduce you to the fun limitless world of baking, cake making & ...