Rich chocolate brownie recipe and guide.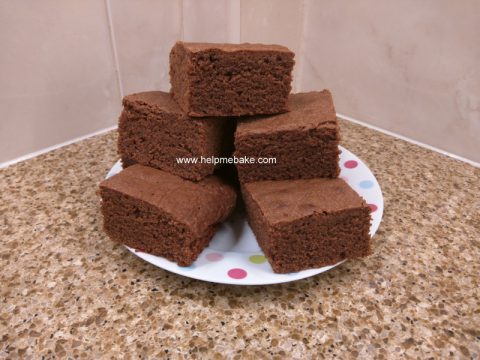 Preheat the oven to approximately:
170°C Fan assisted
190°C Normal Oven
Gas Mark 3
338F
7″ Square Greased Tin – For easy removal from the tin you may also line the tin with baking paper if you wish too.
Ingredients
100g / 4oz Unsalted butter.
75g / Plain baking chocolate.
75g / Milk baking chocolate.
2 Tablespoons Water (Place all these ingredients into a pan)
100g / 4oz Granulated Sugar
1 Tablespoon Vanilla Essence
100g Self Raise Flour
Pinch of Salt (Place all these ingredients into a mixing bowl)
2 Eggs – These are needed in stage 4 of the method.
Method:
1. Place the butter, baking chocolate and water into a pan and melt on a low heat until fully melted.
2. Place the sugar, vanilla essence, flour and pinch of salt into a mixing bowl.
3. Pour the melted chocolate-butter mix etc. straight into your bowl with your dry ingredients.
4. Stir with a spatula, now add one egg at a time and whisk into the mix.
5. Once combined pour into the greased tin.
6. Bake in the middle of the oven for approx 30-35 mins.
7. Ensure the cake springs back and insert skewer (ensuring it comes out clean).
8. Place on a baking tray for 5 mins then turn out onto a wire rack to thoroughly cool.
N.B. This is a very rich brownie and should be served with Ice Cream or cream.
Tip: Brownies are renowned for cracking on the top, they are supposed to be this way.







I'm here to help inspire you, teach you and extract your hidden talents. I will introduce you to the fun limitless world of baking, cake making & ...