This fruit cake recipe will make 3 small thin 6 inch cakes, a large deep 8-9 inch cake, or 2 2litre domed cakes with leftovers for half a litre domed cake.
The 6 inch cakes take between 1-2 hours to bake, the 8 inch takes around 3 hours to bake and the 2 litre domed ones take over 2 hours to bake.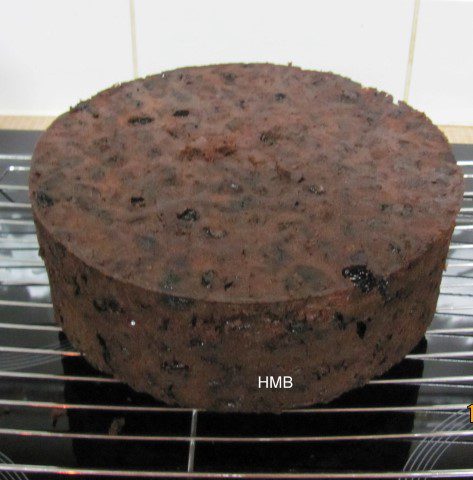 Pre heat your oven to one of the following temps:
130°C Fan assisted/ 150° Regular Oven / Gas 1–2
Bowl 1:-
Place these ingredients into Bowl 1
200g Currants
200g Raisins
200g Sultanas
200g Chopped dried apricots (You can substitute mixed peel for apricots)
200g Glace Cherries
200g Ground or Flaked Almonds (or 100 grams of each)
250g/10oz Plain flour
Zest of 1 Lemon
Teaspoon of Mixed Spice
Bowl 2:-
250g/10oz Unsalted Butter
250g/10oz Soft Brown Sugar (Or any type of dark brown sugar) Cream together with a whisk
6 Medium Eggs Beat in 1 at time to creamed butter and sugar.
Method:-
1. Combine wet + dry ingredients using a wooden spoon (Bowls 1&2) add a dash of Brandy in stages until you have a soft dropping consistency off the end of your spoon. (Then make a wish!)
2. Put the mix into a greased and lined tin 9 inch round or 8 inch square or whatever bowls or tins you wish to use.
3. Bake in the middle of the oven on 130°C Fan assisted/ 150° Regular Oven / Gas 1–2 for approximately 2–3 hours until skewer comes out clean.*
4. Once cooked place the tin on a wire rack and leave to cool for at least 10 minutes this allows the cake to shrink and detach from the tin.
5. Then turn the cake out on wire rack and leave to fully cool.
* I also place a water tray at the bottom of the oven to add moisture to the cake whilst baking.
Tip: If your cake is browning on the top and not cooked in the middle then cover the top of the cake using a butter wrapper ensuring the brand name is facing you when you look at it.
Note: The darker the brown sugar you use the darker the cake will appear to be, if you use light brown soft sugar the cake will be lighter in colour.
This recipe will make 3 small 6 inch cakes and these take around 1-2 hours to cook. These can be used for Mini Christmas Cake presents.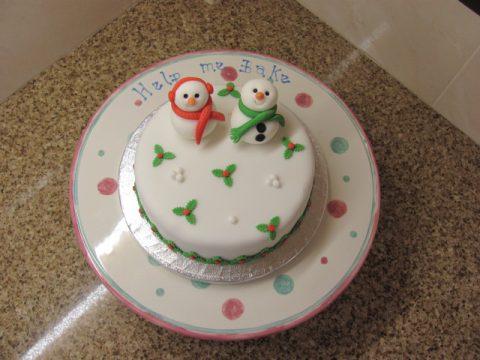 Also see my Igloo Penguin Cake for the Domed Shape Fruit Cake







I'm here to help inspire you, teach you and extract your hidden talents. I will introduce you to the fun limitless world of baking, cake making & ...