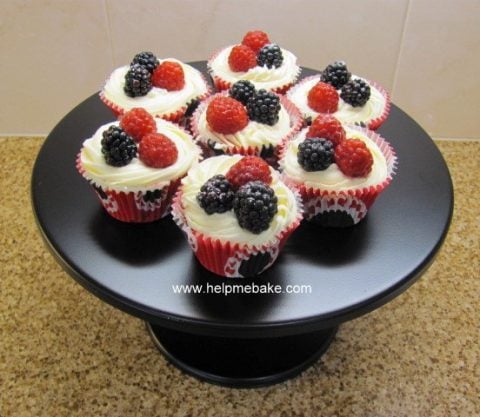 Required:-
A batch of 12 Victoria Cupcakes
Fresh Buttercream
1 Tub of Fresh Raspberries and Blackberries or berries of your choice.
Piping bag and nozzle.
Method:
1. Once you have baked the Victoria cupcakes leave to cool before piping.
2. Place the piping nozzle into the disposable piping bag and snip off the end ensuring the nozzle is protruding through the end.
3. Use a spatula to scoop the butter cream into the piping bag.
4. Fold the ends of the piping bag over (as if you were making a paper aeroplane) and then squeeze the buttercream down towards the nozzle and twist the end of the bag tightly.
5. Pipe swirls onto the top of the cooled cupcakes (Tip: If they are not cooled properly the buttercream will melt).
6. Place freshly rinsed berries onto the top of the swirled buttercream.
7. Dust with icing sugar.







I'm here to help inspire you, teach you and extract your hidden talents. I will introduce you to the fun limitless world of baking, cake making & ...