These are some splendid sea creature cupcakes covered in sand! We have the shark fin for the dangers that lurk beneath the water, an octopus, crab, a very happy starfish, turtle and last but not least some coral and shells! We will be making these beach themed creatures on the upcoming workshop.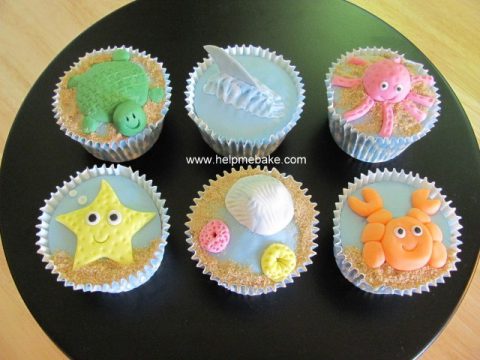 Date: Monday 15th July 2013
Time: 6:30pm – 8:30pm
Cost: £19 per person
Ref: HMB103 – Sea creature cupcake class.
Venue: The Craftwork Studio Rear 22 Preston Road, Standish, Lancs, WN6 0HS (Parking is available). Situated behind Standish Print.
Description:
This is an under the sea themed cupcake workshop where you will learn how to cover, decorate and create an array of model sea creatures as your toppers. With everything from fish, octopus to super starfish amongst others there is definitely something for everyone.
I provide everything on the course so bring yourself and a friend if you wish and have a super sea filled evening. I offer light refreshments and a fun few hours away from the daily grind.


So come join us, learn new skills and have a giggle, everyone is welcome.  There are only limited places available on the workshops so book early to avoid disappointment.
Should you have a question/query regarding the workshop then call Angie. Also please read the T&C's before booking.
I look forward to teaching you soon.

For further in on the class also see Sea Creature Cupcake Class







I'm here to help inspire you, teach you and extract your hidden talents. I will introduce you to the fun limitless world of baking, cake making & ...