Here is your recipe and guide on how to make no-bake Chocolate Pistachio Squares.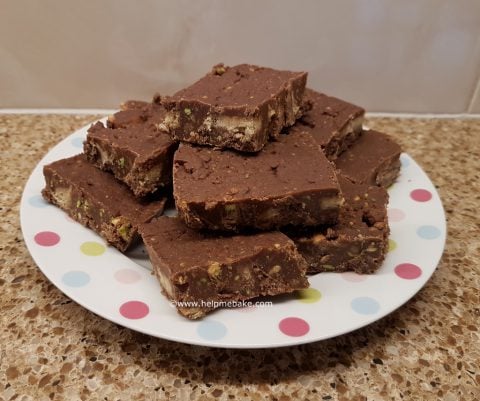 Ingredients:-
250 grams or 9oz Milk Chocolate – (Cadbury's or good quality)
50 grams or 2oz Unsalted Butter – Chopped into cubes or slices.
3 Tablespoons of Golden Syrup
125 grams or 4.5oz Broken Digestives (Graham Crackers)
45 grams or 1.5oz Pistachios (Ensure these have been pre-roasted so that you can remove the shells, you can buy them like this).
Method:
1. Weigh out your Digestive biscuits and either place them in a zipped food bag or in a food processor. If using a ziplock bag, bash the biscuits with a rolling pin to break them up, if using a food processor then just blitz for a few seconds. You ideally want the biscuits to be different sizes. Once broken up put the biscuits to one side. (I poured mine onto a plate).
2. Now de-shell your pistachios and then blitz them in the food processor for about 20-30 seconds. You will end up with pistachio dust and different sized pistachios. I then poured this onto the plate with my broken biscuits and mixed together the two together with a small spoon. Put to one side.
3. Now place the syrup, butter and chocolate into a large pan and melt on a low heat.
4. Once the ingredients have melted remove the pan from the heat. Now pour your dry ingredients into the pan stages. Stir the wet and dry ingredients together using a spatula until combined.
5. Pre-grease your 7-8 inch square tin and then pour the mixture in, press into the tin using the spatula, allow to cool.
6. Once cooled place in the fridge to set, once set then cut into squares.
7. Enjoy!







I'm here to help inspire you, teach you and extract your hidden talents. I will introduce you to the fun limitless world of baking, cake making & ...