Here's the Strawberry Rock Buns Recipe and Guide for you to try. To make these little bundles of goodness do the following:-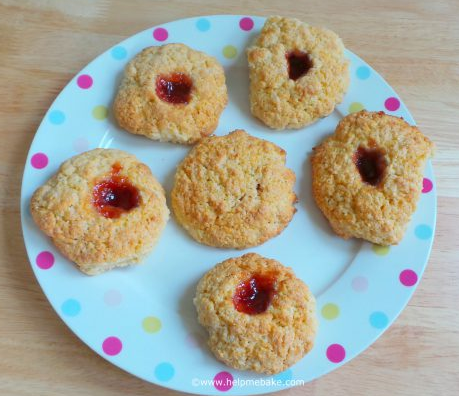 Preheat the oven to:
200ºC or Gas Mark 6
Ingredients
8oz / 225 Grams Self Raising Flour
(Extra flour for dusting your hands)
A dash of Salt
4oz / 115 Grams Unsalted Butter
4oz / 115 Grams Granulated Sugar
(Extra sugar is needed for sprinkling on the top of the buns)
1 Beaten Medium Egg + 1 Tablespoon Semi Skimmed Milk – Place in a jug.
Strawberry Jam or Jam of choice
Wooden Spoon//Teaspoon
Method:
1. Sieve the flour and salt into a mixing bowl.
2. Add the butter to the bowl; using your fingertips rub the butter and flour together until it resembles breadcrumbs.
3. Pour the sugar into the mixing bowl; swirl the sugar into the mixture with your hand using a stirring motion.
4. Pour the beaten egg/milk mix out of the jug into the mixing bowl and stir in using a fork until it combines.
5. Very lightly flour your hands, then scoop small amounts of the mix out of the bowl and roll into small ball sizes.
6. Place each ball on the greased proof baking tray with a space between them.
7. Dust the end of a wooden spoon and push into the centre of each ball making a crater in each.
8. Place a teaspoon of jam in the centre of each ball and sprinkle some extra sugar on the top. ball.
9. Place in the centre of the oven and cook for approx 15-20 minutes or until golden brown.
10. Once baked remove from the oven and place on a baking tray to cool.
11. Devour! 







I'm here to help inspire you, teach you and extract your hidden talents. I will introduce you to the fun limitless world of baking, cake making & ...