Here is a Recipe and Guide on how to make some Home-Made Pastry Christmas Mince Pies!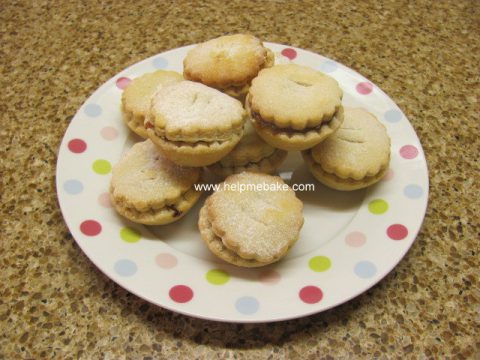 Pastry Ingredients
500 Grams of Plain Flour
125 Grams Butter
125 Grams Trex (Veg Fat)
1 Dessert spoon of Sugar
2 Egg yolks
4 Tablespoons of water.
1 Jar Ready Made Sweet Mincemeat
Method:
1. Place the flour, butter,trex, and sugar into a food processor: (You can use 250 grams of butter in total instead of splitting with the Trex if you prefer).
2. Pulse the ingredients until it looks like breadcrumbs.
3. Then place the egg yolks and water in a jug: In your jug, the total content of eggs and water should equal 80ml. (You can use 80mls of water and no yolks if preferred).
4. Put the food processor on medium speed.
5. Pour about 60ml of your egg and water mix into the processor; you will see the mix binding together. (You may need to tilt the processor for it to combine all the ingredients from the sides).
If you still have ingredients not combined, then add about another 10ml of the egg/water mix to help it blend.
Do this until all the ingredients have bound together in a big ball.
Note: (You may not require all the liquid to make the pastry hence the reason to reserve 20ml and add it in stages).
6. Once combined remove from the processor. (Be very careful as the BLADE is exceptionally sharp!).
7. Dust a work surface with plain flour and roll out to about a quarter of an inch thick.
8. Cut the bases of the mince pies with circle cutters.
(Note: measure the circle cutter against your cake tray ensuring you take into account the depth; generally, I use one size up than the size of the circle circumference of the cake tray as this allows for the scoop of mincemeat being placed in which pushes the pastry down).
Remember you also need to cut the tops too, which can either be with a  smaller circle cutter which is smaller than the base. If you use this then ensure you dab a little water around the edge of the base and top pastry to seal and slice a knife mark into the top to allow the pie to breathe while cooking) or you could have different shaped tops made with cookie cutters, i.e. Trees Stars etc.
9. Place a scoop of sweet Christmas mincemeat (shop-bought or home-made) in each base, then add the tops.
10. Place in the middle tray of the oven and cook for 10-15 mins.
11. Once cooked place on a wire rack to cool and lightly dust with icing sugar.







I'm here to help inspire you, teach you and extract your hidden talents. I will introduce you to the fun limitless world of baking, cake making & ...