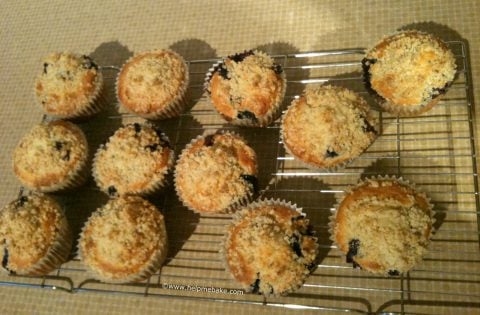 Crumble Topped Berry Muffin Recipe
Pre heat the oven:
180 degrees or Gas Mark 6
Crumble Topping – Bowl 1
25grams or 1 oz Plain Flour
15grams or 0.5 oz Cold Butter
2 Tablespoons of Demerera Sugar
Place in a bowl and rub together using your fingers until the mixture resembles breadcrumbs. Place to one side until the muffin mixture is completed.
Muffins – Bowl 2
25ml Semi Skimmed Milk
50ml Rapeseed Oil or Vegetable Oil
½ teaspoon of Vanilla Extract
1 Medium/Large Egg (Beaten)
Place all the above liquids into a bowl and whisk together.
Then Add to Bowl 2:
75grams or 2.5 oz Caster Sugar
250grams or 9 oz Plain Flour
3 Teaspoons of Baking Powder
½ Teaspoon of Salt
Once you have added the dry ingredients to bowl 2 give the mix a very quick blast with the electric whisk(on a medium speed) this is to ensure the dry ingredients has been quickly dampened with the liquids (the mix will be lumpy this is GOOD ).
Then Add:-
125 grams or 4.5 oz Chopped Blueberries – (Tip – Chop your berries in half and lightly roll them in plain flour before adding to Bowl 2, this prevents the berries sinking to the bottom of your muffin whilst cooking).
Add to the mix and stir in slowly with a wooden spoon.
Pour
Pour the mix from Bowl 2 into 12 muffins cases that have been placed in a muffin tin, then take Bowl 1 and sprinkle the tops of the 12 muffins with the crumble mixture.
Bake in the oven for 20-25 minutes, once baked place on a wire rack to cool.







I'm here to help inspire you, teach you and extract your hidden talents. I will introduce you to the fun limitless world of baking, cake making & ...