Here is your recipe and guide on how to make a classic Victoria Sandwich Cake: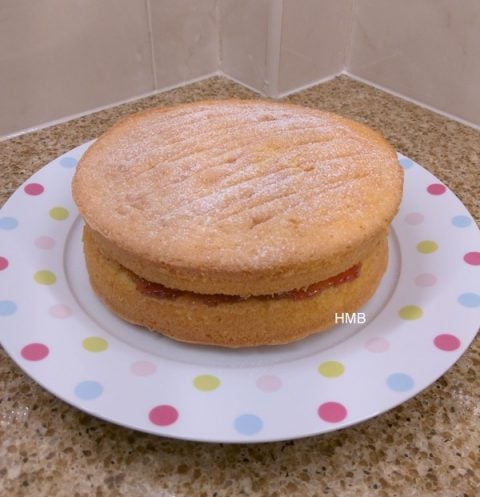 Also see the full Victoria Sandwich Tutorial with pictures and a step by step guide.
Preheat your oven to one of the following temps:
180-190°C – Conventional Oven
170°C – Fan assisted
Gas Mark 3
338F
Ingredients:
150g or 6oz Margarine or Butter
150g or 6oz Sugar (Granulated or Caster)
3 Medium Eggs (1 at a time)
150g or 6oz Self Raising Flour
Method:-
1. Cream together the margarine & sugar in a mixing bowl using an electric whisk on a medium speed, you will notice the mixture getting lighter and paler in colour.
2.Beat in the eggs one at a time and blast with the whisk after each.
3. Add the flour, I use a spatula to mix the wet and the dry ingredients a little (this is so that the flour doesn't fly everywhere when you put the whisk back on) whisk the ingredients together on a medium speed until the ingredients have combined. Whisk for about 30 seconds. scrape the sides of the bowl down with your spatula and then which for another 10 seconds to make sure everything is combined.
4. Taste the mix to ensure that it is ok. (i.e you haven't used salt instead of sugar etc) I do this using a very small spoon.
5. Then split the mixture into 2 greased sandwich tins (lightly grease with either margarine or oil) and bake on the middle shelf of the oven for 25 mins.
6. Once cooked, remove from oven, leave to cool for 5 mins then turn out onto wire rack to cool.
7. You can sandwich the cakes together with jam (whilst still warm) however only dust with icing sugar across the top once it's completely cooled.
For cupcakes split the mixture into 12 muffin cases and bake at 180 degrees (fan assisted) or Gas 5 for 10-12 mins.







I'm here to help inspire you, teach you and extract your hidden talents. I will introduce you to the fun limitless world of baking, cake making & ...